You may have heard of Clickfunnels before and know a little or even nothing about them but you know they may help your business get to the next level and reach more people. Before we get into the benefits, we want to explain exactly what Clickfunnels are and how your business or you can utilize them. Lastly, we want to discuss the benefits of Clickfunnels. Keep reading to get a full Clickfunnels review.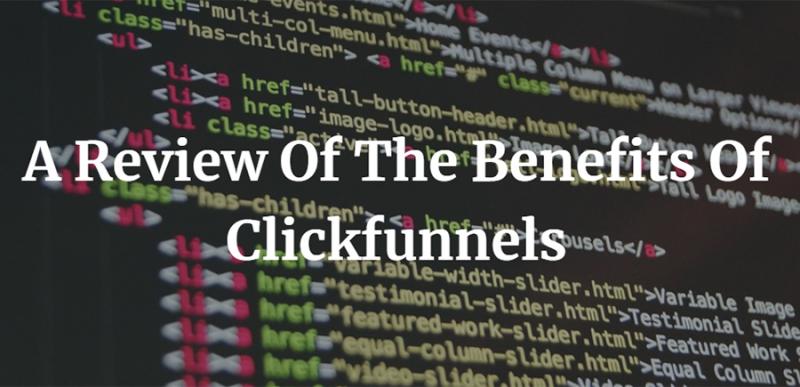 Clickfunnels are a sales funnel that is online that can help a business accomplish a lot of different things. Whether you are looking to sell a product or a service, have people sign up for a webinar, or have people opt-in for a free eBook, a sales funnel provides a complete step-by-step process for your target audience to end up opting in, purchasing a product, or whatever you want their end goal to be.
When you work with Clickfunnels, you are creating a sales funnel that incorporates different elements that you want in order to ultimately sell to your audience. It takes each of the different parts of the sell and makes them into a funnel that makes the end result more successful and is easy to operate for you on the back end. Traditional funnels mean you need a hosting webpage, different landing pages, you need autoresponders to each email, and you need an overall vision. This cannot only be expensive, but it can take a lot of time. When you work with Clickfunnels, it is all done for you in front of you so you simply go through whichever pages you need and fill in the areas and it suddenly all appears in a sequence in front of you. There are also different packages to choose from with Clickfunnels. Each can be done one-by-one so that you can choose the specific funnel for your business and for what you want the final result to be.
Some of the pages that can be created on Clickfunnels are a sales page, opt-in page, a capture page, a sign up for a webinar funnel, a membership site, a product launch funnel, and finally different landing pages.
One of the direct competitors is Leadpages. Leadpages has a similar goal in helping you create a funnel or different pages that work together in order to create a goal. The negative about Leadpages however is that takes a lot more work in order to create each page. With ClickFunnels, you can create a funnel for your service or product quickly in a short period of time.
As we talked about before, you will create different funnels based on what your goals are. Here is a more in-depth look at each funnel and what will happen if you choose that style.
With an opt-in funnel, your goal is to capture the email address for people visiting the website. It's popular to give away a free eBook and you will then capture their email because the free eBook will go directly to their email address. You can also give away video training or a coupon. This has the goal of helping you grow your email list.
The next funnel is a sales funnel. This is to help you sell your product or service. With a sales funnel you are able to upsell or downsell during the entire funnel process.
A membership site is an excellent way of creating passive income. A membership site is a place where you can grow an online business and people will pay to be at the backend of your website.
A very popular funnel is a webinar funnel. This makes it easy for people to register for your webinar. ClickFunnels has an autoresponder option called Actionetics which will go out automatically and send an email out for you.
Once you have your specific funnel selected you are given a template to work from. That means it already looks eye-catching and already has everything set in place, you simply need to write the copy and drop it in where it is already pre-selected for you. These tests and placements have been proven to work. ClickFunnels uses A/B testing to get rid of templates that are not working so it only shows you the templates that are working the best so that you have the best results.
ClickFunnels is very user-friendly and can work with different features such as a clock for a countdown, you can upload a video to make it personalized and others. There is barely any learning curve around it so almost anyone can use it.
As you can see, there are so many benefits of ClickFunnels. Your business will truly start to grow when you use it and that is why we are so happy with this overall review and understand why you will want to jump on board. It's always a good idea for business owners to get things that work as seamless as possible so there is not a huge learning curve and it makes things as easy as possible with the best possible results. Overall, we are a huge fan of ClickFunnels since it is easy to use and you can do so many things with it. For the overall price, you are getting your money's worth. For more information on ClickFunnels, contact us today.