A landing page is incredibly important as it catches your site users at the exact point where they move from passive browsing to actively reveal their interest in what you are offering. An effective way of getting your landing page concept off the ground is by using a good landing page template. But be sure to choose a template that complements your marketing campaign goals.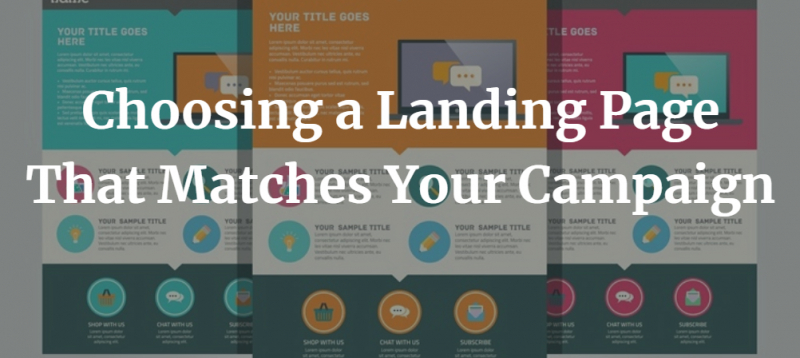 Knowing what is a landing page is one side of the coin and choosing the right template and optimizing the page is the other side. Here are tips to help you pick a landing page template that complements your campaign objectives.
1. Understand what your target audience wants
The key to choosing the right template is by first knowing what your target audience wants and availing it to them in time. Note that some products tend to be more visual than others and in such cases, you should use a responsive landing page template that focuses on images. For products that require in-depth descriptions and information, opt for a more text-focused landing page template.
Choosing the right template makes landing page customization easier and boosts conversions.
2. Personalization
It's recommended to personalize the message your website users see first. The personalization process will be majorly influenced by where your site visitors come from and what you know about them. Generally, personalizing a marketing message is an effective tool to help your landing page attract and convert the right traffic. Thus, choosing a template that facilitates easier personalization of your brand message is an important decision.
3. Sometimes, less is more
Most marketers seek the so-called comprehensive landing page templates with all whistles and bells. They think by having countless ads, CTAs, and flashing colors on their web pages, they can attract web users and increase conversion. Well, this is a false economy.
As with many web designs these days, visitors appreciate being able to access the information they need easily without any distraction. Thus, a simple, streamline landing page template facilitates the creation of a 'clear' page with the right whistle or bell. That means your site visitors can find what they are looking for easily and that boosts conversions.
4. Give your visitors what they need and do it faster
Picking a template isn't about creating an 'attractive' landing page; it's about ensuring your landing page loads fast and offers what the users are looking for before they decide to look for it somewhere else. Even if you require video-heavy landing page or one with lots of images, focus on making sure that your visitors can get what they are looking for within the shortest time possible.
5. Always be mobile-friendly
According to a recent study, over 51% of global online traffic is associated with mobile devices such as tablets, smartphones, and more. Choose a template that can work perfectly on these devices without compromising the quality of your landing page and the message you want to pass.