Proposal templates can help you create more thorough, better-defined proposals for your business, but you need to be able to use them effectively. If you don't have clear and consistent processes in place, or if your salespeople have no experience with proposal templates, it could end up costing your business more than helping it.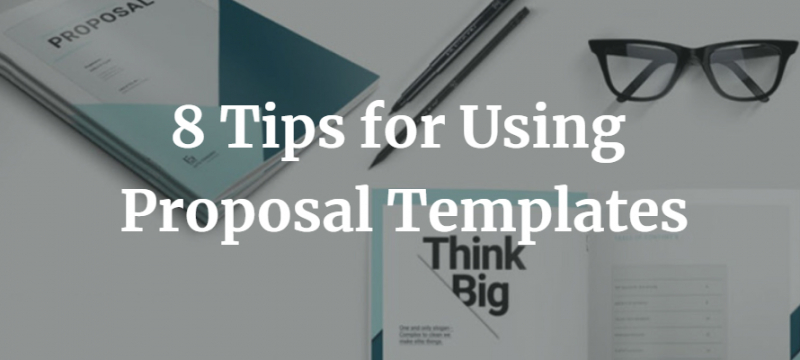 Tips for Using Proposal Templates 
Proposal templates can be found, created, and used in a practically infinite number of ways, but if you want to get the most value out of them, you'll need to follow these strategies: 
Make a good impression with the title page. Hopefully, if you're sending a client a proposal, you're already on good enough terms that they'll look past the title page no matter what. However, your first page will make a major first impression on your reader. Make sure you include clear branding, with a design that's both eye-catching and original. You won't get a second chance at that first impression. 
Create (and modify) the table of contents. Your table of contents is going to serve a few functions. For starters, it will help you visualize the organization of your proposal, so you can make changes as you see fit to improve the "flow" of the document. It's also going to help you and your client find specific sections faster. Just be sure to change it, or build it so it changes automatically in response to adding or removing sections. 
Write the executive summary from scratch. Every good proposal will have an executive summary, designed to explain the outline of services and make a high-level pitch to the prospect. While it's tempting to make this replicable with a template, this is your chance to appeal to specific clients. Try to write this section from scratch every time, even if you lean on older proposals for inspiration. Speak directly to one client, rather than any and all future clients at once, and make your proposal more personal and more relevant. 
Tweak your "problems" and "solutions" for each client. Each proposal template should have a section where you list the "problem" you're trying to solve and the "solution" you're offering to solve it. While many of your clients will be similar, none of them will be the same. Keep these sections in your template, but make sure you tweak them to fit each client's unique perspective and situation. 
Include pricing, but always check it. Your proposal template should have a pricing section that makes calculations and price offerings both convenient and sensible for your salespeople to navigate. However, pricing can also be sensitive; you don't want to accidentally show discounted pricing to a client who doesn't qualify, or accidentally show a price that's too high. Always double check pricing before sending a template off. 
Specify your terms and conditions. Proposal templates can save you a ton of time by allowing you to skip over sections that never seem to change. If you have a strong "terms and conditions" section, or similar legal sections like a "privacy policy," polish them to perfection and include them as an attachment to every proposal you send. 
Make it clear and easy to sign. If a client is truly interested in your services, nothing's going to stop them from working with you. That said, you can make their lives easier and improve your own workflow by making it easier to sign and submit the paperwork. Make sure your proposal template has a final page that makes it convenient and straightforward to wrap up. 
Gather data and feedback so you can improve. Don't assume that your proposal template is perfect as is. Instead, commit to improving all your proposal templates over time. Gather as much information as possible, from how long it takes to modify a proposal to its bottom-line success rate, and get feedback from both clients and salespeople. Then, use this information to improve. 
You'll have many options for how to develop templates, as well. For example, you can try to create your own template using Microsoft Word or similar software, or you can choose a free template from a number of sources online. However, your best approach may be developing custom templates of your own using proposal software—that way, you'll gain access to other features, like proposal tracking, electronic delivery, and proposal library management. 
Training the Team
If you have a team of salespeople, you'll also need to spend time making sure they're adequately trained on how to use your proposal templates, and how to modify them effectively for your target audience. Think of your time spent as an investment; the more educated and more confident your salespeople are, the better they can perform.