Starting a business today is easier than ever. All you need is a great idea, a little cash, and some general knowledge of online marketing. You can even make your website without hiring a professional web designer. But if you don't choose the right web platform and template, your website won't be very appealing, nor will it achieve the conversions you need for a growing business.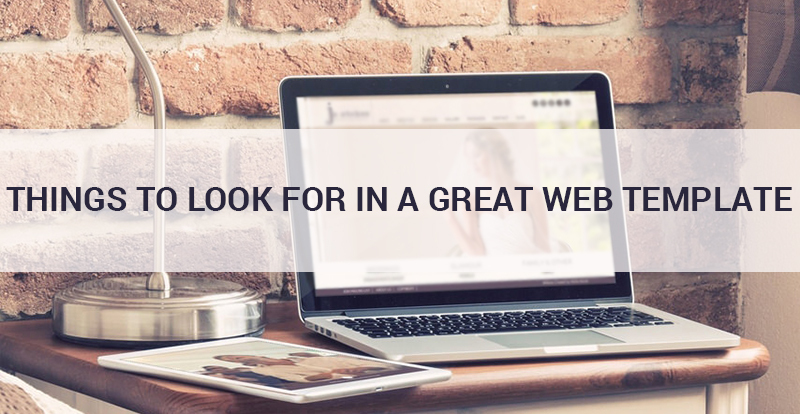 Whether you're choosing a template from WordPress, Wix, GoDaddy, Joomla, or any other website builder, the right template carries a lot of weight.
Here are some tips for selecting the right one:
1. Choose a Great Template Library
You'll rarely find the perfect pair of high quality running shoes when shopping at a bargain clothing outlet, and you won't find the right template without exploring the right template libraries. Carefully compare template libraries for variety, creativity, responsiveness, and other features that are important for your online business. Read template comparisons to help you make your choice.
2. Consider Budget Constraints
You shouldn't necessarily compromise cost for quality or vice versa, but you should set your max budget. Along with factoring in the cost of the template, consider the other costs associated with building a quality website such as additional security features, taxes and fees, DIY vs. professional installation, plugins, and more. You'll have an easier time narrowing your options when you have a budget.
Remember that some free templates can be great, but others are poorly developed and will cause issues down the line. Carefully read reviews and make sure your free template won't cost too much in future repairs.
3. Use Your Industry as a Guide
You can often narrow the search for the perfect template by using your niche as a guide. If you're looking for a great real estate website template, for example, using that in your search can significantly narrow your options.
If you're starting an ecommerce site, narrowing your options will be a little more challenging. However, you can do so by considering the purpose of your site. Think about the colors and mood you want to set – be it carefree and inviting or bold and professional. Use this as an important benchmark when choosing your template.
4. Look for Simplicity
Simple templates mean you can handle the installation and maintenance by yourself. That's always a huge positive for small businesses on a budget.
Additionally, simple is the new status quo for websites. Minimalistic style with non-crowded web pages and simple calls to action often achieve the best results.
5. Check the Responsiveness
If there's one thing that every small business owner should understand about building a website, it's that responsive is NOT an option any longer. Research shows that internet users spend more than half their time browsing on their mobile phones, and some spend as much as 90 percent of their time on their phones. Therefore, you must use a template that will work effectively on any size screen.
6. Understand Supported Plugins
Your website template is not the end of your design. You'll likely have a number of plugins, such as ecommerce platforms, blogs, payment windows, security features, and maps that you'll want to include on your site. Check that the plugins you'll be using will work with the template you choose.
7. Invest in Support
A big downside of using free or affordable themes is that they often don't provide the necessary support for technical difficulties. As a small business owner, your site must work properly at all times. Investing in a template with great support is highly recommended.
8. Choose SEO Friendly
SEO might seem like a separate matter from your website design, but the two actually play a symbiotic role. A theme that looks great can still have poorly coded HTML that will interfere with your rankings.
Search for a theme that specifically says it's optimized for SEO. This means that the code is written in such a way that Google can easily find it and begin ranking it once you've established some content.
Never underestimate the power of a great website template for helping your business. As long as you carefully consider your options, you'll find a template that will work for your organization.