People post success stories on a daily basis on domain name buying and selling, and it is a lucrative business if one handles it correctly. The big question is what determines the value of a domain name? Different people will give different answers based on real-life experiences and business trends. You have to consider several factors before arriving on a price you are willing to pay for a domain name. Below we have put together some tips we have gathered from many experts on how to make profits buying and selling domain names.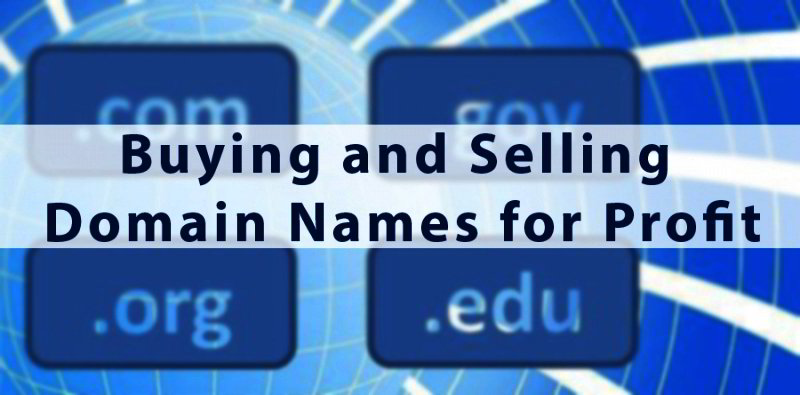 Identify a Specific Niche
People have been registering domain names for a long time, and it is likely that someone owns your preferred domain name. You need to know the different types of domain names before committing to buy. Some of the newest domain extensions in the market include .shop, .club, and .xyz, to mention a few. Maybe you are knowledgeable on health care, pets, laundry, nursing or education. Do not use the perceived economic status of your target customers as a basis to identify a niche. Some may think that doctors will make a good buyer just because they are high earners. You have to understand that certain professions like law, finance and medicine have their guidelines on advertising, and may be restricted in the amount and types of content they can publish online.
Acquire Names with Real Value to the Buyer
The domain name should be a valuable asset to the buyer. You have to visualize yourself from a buyer's point of view and see if the name has value. It is therefore wise to deal within a niche that you understand well. You have to honestly evaluate whether the said name will be beneficial to the buyer. Take, for instance, selling Bostonyoungsterclothes.com in an area dominated by an old generation. Such a name may not be competitive in such a setting and may not benefit the buyer. If your domain is geo-focused understand the demographics.
The ideal name should make the buyer sound authoritative in his/her area of expertise. You should also determine the amount of profit that people in the same line of business get in that particular area. Research the type of domain names that similar businesses use and their budget on advertising on a monthly or annual basis. A good way to do this is to use the Google Adwords Keyword planner tool to find out the Cost Per Click for different keywords related to the domain.
Identify your Target Market
It may prove hard to sell region specific names, like .co.uk, to customers outside the United Kingdom. Some domain extensions like .com, .org and .net are used worldwide, which makes them favourable picks for most people. Some domains that are restricted to specific cities may also reduce the number of potential customers. The new domain extensions such as .shop are easily identifiable with e-commerce sites, and thus customers will know what to expect even before opening the link. This is a good selling point.
Hunt for Valuable Domains
Once you identify your niche, the next task is buying the domain. Sometimes you can be lucky to find a good name as a new registration. Most domain vendors have a search box where you can check the availability of names. The domain companies will give the available options through extensions such as .com, .net, .org, and others which are country specific, such as co.uk, .za and .ca. You can use auctions sites like Flippa and Sedo to browse through or search for domains. Some sites give you the chance to narrow down the search based on extension, price, and keyword. You can buy both expired domain names that already and good traffic, TF and CF on many platform.
A good starting point is checking the value of similar domain names on sites such as Flippa. Check the selling price and time it took to complete the sale. Key in specific keywords on the advanced search tools and check similar names and their prices. This approach helps you to avoid buying an overpriced name that will prove hard to sell. Use tools such as Google Analytics to determine the search volume of your exact match domain names. High search volumes are a great selling point as they are more likely to get traffic from the search engines
Generate Traffic to Your new Domain Name
Some people buy names and park them in the registrar account. This means that they just wait for the opportune time to sell the name. You can add value to your domain by creating a simple landing page for potential customers. You can do basic keyword research and include the keywords on this landing page. Identify your potential customers to determine why someone might be willing to buy your domain name. Use a strong tagline that is likely to attract many people. You can also insert social media plugins that show that you will be launching social media accounts soon. This adds to the vibrancy of the domain.
How you present your domain will determine the speed of the sale. Armed with great keyword research, you can now develop a sales page to accompany your listing. Such a page should be authoritative and clearly show that you have knowledge in that particular niche. Back it up with market research and analysis based on facts and trends. You can also advise your potential customers how they can use the domain name profitably. Remember to include an inquiry link on the sale page where potential customers can communicate with you.
Just like any other product, you can use several channels to sell your domain name. Checking the reputation of the dealer is important. The buyer should get the exact name that they purchase- and fast. It is also worth checking the dealer's networks and set realistic expectations.
How long does the vendor take to sell similar domains?
It is worth picking dealers with good ratings and those accredited by trusted government agencies and reputable organizations.
Buying and selling domain names at a profit requires research, planning and intensive marketing. Appraising domains to buy takes experience, and you will make mistakes. Just make sure your early steps into the markets are not expensive mistakes. Start slowly, and as you gain experience scale in terms of quantity and price.