Hiring a wedding professional can take a major weight off your shoulders, but some couples don't have that option. For some, it's an issue of budgeting. For others, it's a desire to plan your own wedding to ensure that it's a reflection of your own vision. If you're planning on organizing your own wedding, it can be a bit overwhelming. From picking out the right custom bridal gown to figuring out which people you want to invite to the wedding, it can be a lot to handle — especially if you don't have any experience planning an event of this size.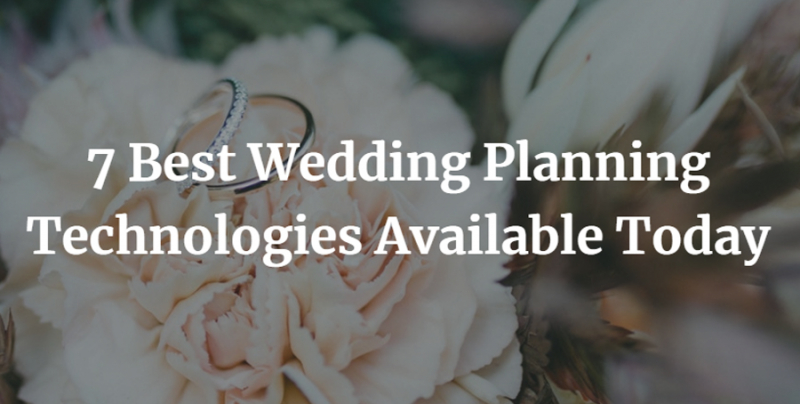 Fortunately, in this age of online tools and social media so prevalent that we even make movies like People You May Know about followers and likes, there are plenty of websites you can use to organize your wedding like a professional, and we're going to cover some of the most powerful tools right now.
WeddingHappy
At its core, WeddingHappy is all about helping you manage whatever the wedding planning process throws at you. Whether it's organizing your tasks, handling all your payments or keeping all your vendors in order, WeddingHappy gives you the tools you need to stay on top of it all. Interestingly enough, they help you stay on track by providing you with a timeline to follow when it comes to planning your wedding. The idea here is to ensure that you're absolutely ready by the time the day finally arrives.
Beyond that, they've created a user-friendly, intuitive interface that allows you to customize your wedding plans with a few simple clicks. There's even a premium version of the service that lets you stay connected with your partner at every stage of the wedding planning process.
Carats & Cake
On the surface, Carats & Cake may seem like just another tool used to empower wedding businesses. In reality, by elevating their brand voice using real content, these businesses are able to run more efficiently. How does this affect someone planning a wedding? Well, you're given access to a list of the best vendors and venues in your area. Not only is this list based on your specific location of interest, but it's curated to ensure that you're only being shown the best of the best when it comes to weddings.
WeddingWire
If you're looking for a more modern, cutting-edge approach to wedding planning, you should consider using WeddingWire. Not only are you able to build your own wedding website, but you're able to get pretty creative with your presentation. WeddingWire offers you hundreds of design templates to choose from. Whether you're basing them on your own palette, invitation design, or starting from scratch, WeddingWire has the option for you.
Feel free to create your own custom backdrop using your engagement pictures. Create an online RSVP system, without having to worry about mail-in cards. You can even get a custom URL so that your website matches your wedding hashtag.
Riley & Grey
Of course, that's not your only option when building a website. In fact, if you're looking for something out of the ordinary, take a look at Riley & Grey. While they boast beautiful wedding websites that you can build quickly, what's really interesting here is the fact that you're able to showcase your personalities. Here, you can bring something unique to the table while still building a user-friendly website.
One of their biggest draws is the fact that you're not stuck recycling tired old designs. Instead, these modern sites are capable of reflecting your wedding's style accurately, whether you're interested in traditional themes or not. The technology is easy to use, and it's never been easier to build a cohesive wedding site with such utility.
Google Docs
Google Docs is one of the most underrated wedding planning technologies on the market today. Sure, it may not seem like much, but make no mistake: Google Docs and Google Drive are fantastic for coordination and accessibility. Not only is it already integrated into your entire wedding party's devices, but it also offers a level user-friendliness that impossible to find anywhere else. Organize your plans and findings within Google Docs, and you'll have an easy time staying on schedule.
Vensette
One of the most useful wedding planning technologies available today is Vensette, a VIP service for finding the best hair and makeup artists out there. To book them, start by browsing the Vensette menu and choosing the makeup/hairstyle that's going to inspire your final look. From there, decide on a visit time, location and payment method. That's right, no worrying about cash before or after. At that point, a professional artist will come see you and complete each service within 45 minutes. Not bad, right?
The Venue Report
Venue hunting is anything but easy, especially if you've never organized a wedding before. Fortunately, that's where The Venue Report comes in. The Venue Report's reporters are typically the first to know about the latest hotspot venue availabilities, which includes restaurants, hotels and anything else you might be interested in. You can search by venue type and choose between estates, ranches, and warehouses, or search by celebration type, design, curfew and much more.
Which wedding planning technologies have you found to be the most useful? Share with us in the comments section.