It's one thing to start and grow your blog but it's a completely different story when it comes to monetizing it. If you're a blog owner, you've probably tried a method for generating revenue but still feel like you need to see bigger numbers. Fortunately, there are numerous ways to increase revenue aside from selling ad inventory or promoting affiliate products.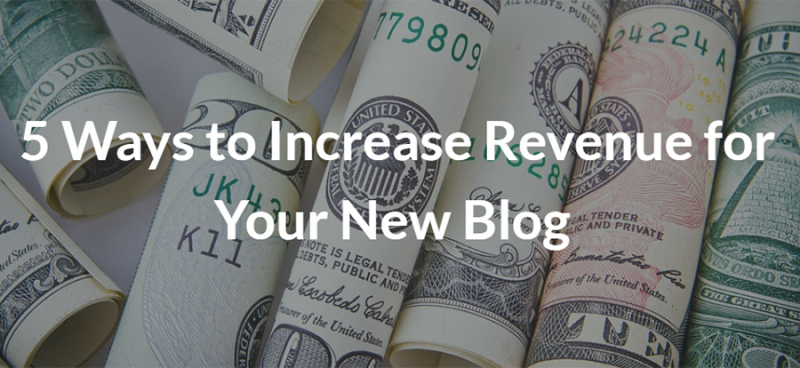 1. Offer Your Own Web Services
If you're targeting a tech audience, then one of the best things you can do is to sell them service that they're going to need. A good example is selling web hosting through a reseller hosting. The reason why this is such a smart idea is because you are branding the hosting services under your own company. This gives the service more credibility if you've built a strong relationship with your audience.
There are many other good and relevant white label services you can promote as well. This includes email marketing autoresponder systems, accounting platforms, social media marketing platforms, and more. It helps that many of these services like the reseller hosting can help you make recurring revenue being that many of them put customers on monthly retainer.
2. Build a List Around Affiliate Offers
You're probably already promoting affiliate offers in the form of ads and anchor text in your blog posts. But in order to really start generating more revenue from your affiliate offers, you have to get and keep the attention of your readers. How do you do this? Start by building an email list. Don't simply leave an email subscription box somewhere on your blog. Make it a priority for readers to subscribe by offering valuable guides and courses.
Once you add your readers to your email list, it becomes far easier to promote affiliate offers. That's because the emails go directly to your readers and you can set up multi blast campaigns that generate more interest than simply promoting on your blog and social media channels. Plus, you'll be able to follow up with other affiliate offers in the future once they are subscribed.
3. Sell Your Own Products
Many bloggers are finding that they can generate a lot of revenue by selling their own products. You can sell your own apparel, branded tech, supplies, and more. It's really up to who your audience is and what your brand consists of. The great part about selling your own products is that they have far higher margins than promoting something like Amazon or using a dropshipper to source your products.
We know what you're thinking. You probably don't want to deal with buying a bunch of products in bulk and having them not sell. Fortunately, there are many print on demand companies that help you customize and sell your own products one at a time. While the print on demand fees do eat into your margin, you can scale out large orders once you confirm that your readers are buying the products.
4. Create and Sell Your Own Digital Courses
One of the most profitable things you can do is to create your own digital course. Try to come up with topics that your audience is interested in learning about. If you're unsure as to what to create your course on, you can simply set up a survey to find out. You'll be surprised by the topics that your readers want to learn about and how much they're willing to pay. The best part is that selling courses yield almost a 100% profit margin.
And once you create your digital course, you can do far more than simply monetize your blog with it. You can talk to other bloggers, niche communities, and industry sites to see if they're open to promoting it for a portion of the profits. You can expand your revenue source outside of your blog.
5. Sell Leads
Another smart way to add revenue to your blog is to sell leads. The great thing about selling leads is that you're simply redirecting your readers to a product or service they've expressed interest in. For example, if you run a blog about social media, you can easily set up a sign up page if they are interesting in outsourcing their social media marketing to an experienced digital marketing firm.
All you have to do is to partner with a credible and proven digital marketing agency that can deliver results for your readers. You can set up a simple structure where you are paid for each email lead you send them. It may even be more profitable to work out a more complex deal that consists of you being paid for leads and for part of the sale. But working with leads is a far easier and simpler solution.
These are five proven ways to increase revenue to your new blog. Most of these methods do not require much capital to see if it works for your blog. And don't think that you have to utilize all of the methods. Simply experiment and use the ones that are performing the best for your blog.