Business planning is an important prerequisite for your business' growth and success. A strategic plan establishes your business priorities, enabling you to strengthen operations and properly allocate resources what will ultimately drive your business into an exciting future.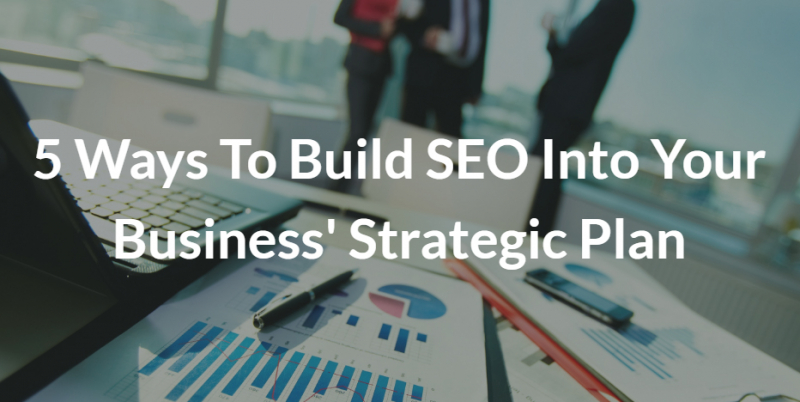 Internet marketing has become very competitive nowadays. As an entrepreneur, having a digital marketing strategy will give you an increased advantage. Building SEO into your business strategic plan will help you improve your website and generate quality traffic that will increase business opportunities.
Let's look at 5 ways to build SEO into your business' strategic plan.
Know Your Target Audience
When building search engine optimization (SEO) into your strategic plan, it is very important to know and understand your target audience. Key questions to ask at this level include; who are they? What is their age range? Are they male or female? What are their interests? How much do they earn?
These questions will help you understand what your target audience is looking for online. Don't forget to analyze your existing audience as well. Your current customers are very important to your business. Your strategy should ensure that you don't lose them to your competitors.
Allocate Time And Resources Efficiently
As an entrepreneur, competing for search traffic can seem like a daunting task; especially if your business is up against big retailers who have scaled the markets internationally. For you to build your SEO, you will need to be smart with time and budget allocations.
If you are working with a small budget, consider locally focused keywords. They will not only give you more success targeting, but they are also a great source of qualified leads.
Create Great Content
In today's competitive world, only relevant content will achieve high rankings. Ensure that you create great content that is specific and tailor-made for your target audience. Identify gaps and opportunities in the market and optimize your content in order to make greater returns and be a step ahead of your competitors.
Categorize Your Keyword Research
Once you have identified the specific needs of your target audience, you will need to categorize your keyword research. Keywords can make or break your strategy, thus you will need to ensure that they are prioritized and well determined.
Identify the products or services you will want to talk about. Create an excel sheet template where you can categorize all the relevant keywords. If you are working on a large website, and you are covering a variety of topics, then you can have several worksheets with different categories of keywords.
Guest Posting
When building SEO into your business strategic plan, don't forget to write and publish quality guest blog posts. Guest blogging is a great way to increase traffic by writing great articles to be published on another person's blog.
Guest posting will give an opportunity to tap into a greater target audience and venture into a market that would otherwise seem out of reach. Establishing a good rapport with editors will always get your content published. Remember to make your content original. Repetitive and duplicated content does not appeal to anyone.
Conclusion
There you have it; 5 effective ways to build SEO into your business' strategic plan. Are you looking for a digital marketing partner? Digitrio is here for you. The dedicated team is committed to providing the best SEO solutions for clients. Get in touch with digitrio today and watch your business move to the next level.