As a presenter, the saying "You can't win 'em all" shouldn't be your excuse to not wow everyone in your audience. In fact, for every presenter, the challenge should be: you have to win 'em all. Inform them. Entertain them. Persuade them. Do what it takes to get your message across.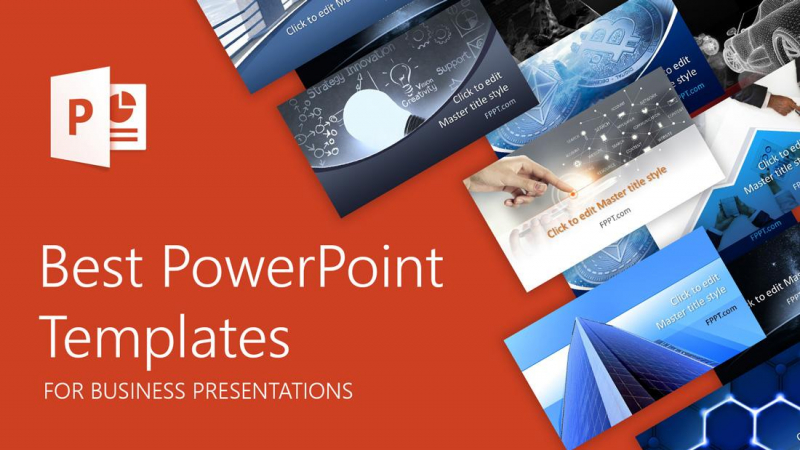 And this is where PowerPoint steps in.
While there are many new slideware available online and as programs or apps out there, PowerPoint remains a staunch leader in slideshow creation. Not only has it improved its interface over the years, but it has also managed to add and modify features to address the needs of today's presenters.
With PowerPoint, you have access to not only a time-tested Office tool, but also a wide range of built-in features, including its range of versatile templates. Here are some picks including a good selection of free presentation templates. If you really want to stand out without spending all your time on every slide, especially for business presentations, then you can do what most professionals do and use professionally designed PowerPoint templates.
1. Free Professional Handshake PowerPoint Template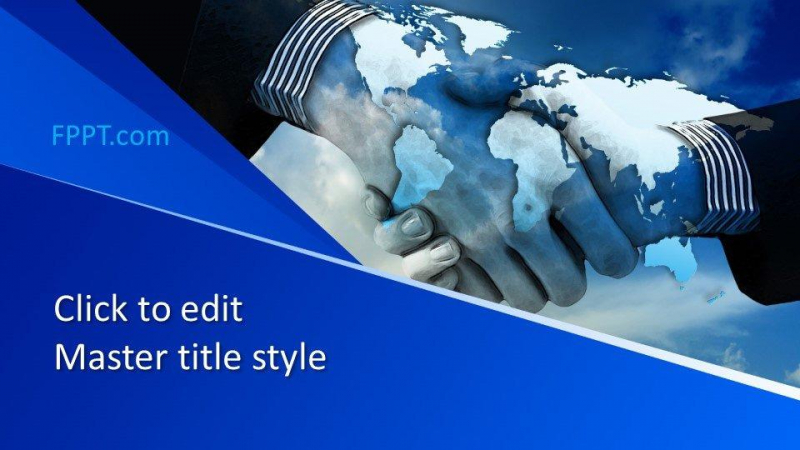 Go to Free Professional Handshake PowerPoint Template
This Free Professional Handshake PowerPoint Template is a powerhouse presentation template that is great for all kinds of business slideshows. It conveys agreement and integrity, as well as business relationships.
This template features four versatile slides that all keep up the blue corporate theme. The title slides show clean, sharp angles in various shades of blue, perfectly framing the image of shaking hands which transition to an image of a map of the world. This conveys global relationships or agreements between companies or organizations between countries. The rest of the slides showcase different layouts that you can customize to suit your purposes and the information you want to convey to your audience.
2. Free Office PowerPoint Template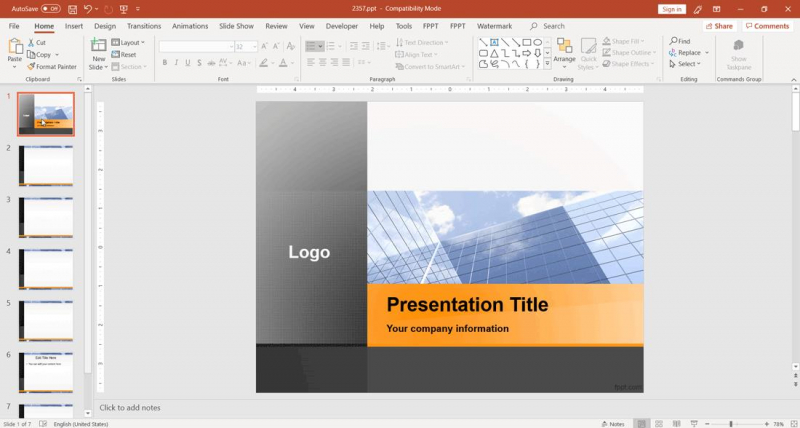 Go to Free Office PowerPoint Template
Business presentations are best characterized by clean lines and subtle contrasts. This is perfectly embodied in the Free Office PowerPoint Template, which features a high-quality image of a building or high-rise, contrasted with clean lines in the graphics.
The title slide draws the eye on the orange band across the bottom of the slide, straight to the title of your deck. This geometric grey and orange design appears throughout the slides, creating a unified look that is 100% professional and business-like.
This versatile template can be further modified or customized to your preference, and you can also add your brand or logo on the bordering shapes for a more tailored deck.
3. Free Industry PowerPoint Template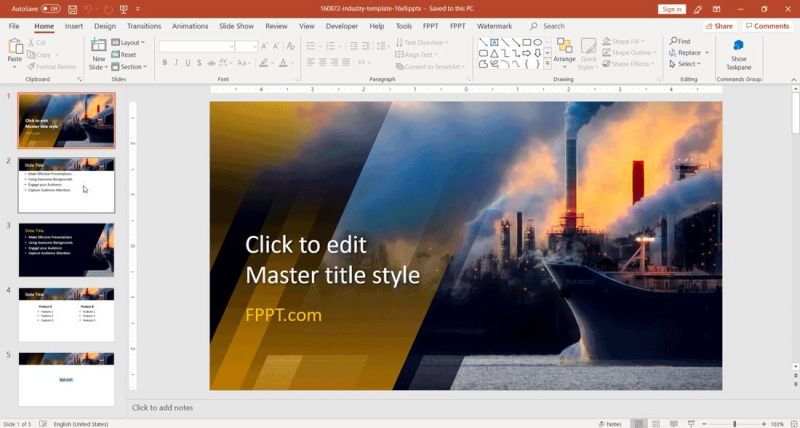 Go to Free Industry PowerPoint template
Those involved in manufacturing and logistics can definitely find this next template most interesting. This Free Industry PowerPoint Template features a dynamic theme that shows smokestacks of a factory or plant against a ship in the foreground. These are the very symbols of industry captured in high-quality images for your slides.
This template comes with a blue and yellow color scheme that matches the main image, and the same look is reflected slide after slide. Regardless of the layout, the same look and feel of the slide remain.
There are layouts for heading and text, comparisons, columns, yet you can still customize these depending on the information you need to display in your own presentation. You can make use of PowerPoint's SmartArt graphics, as well as the vast formatting tools to truly make this template yours.
4. Information Technology PowerPoint Template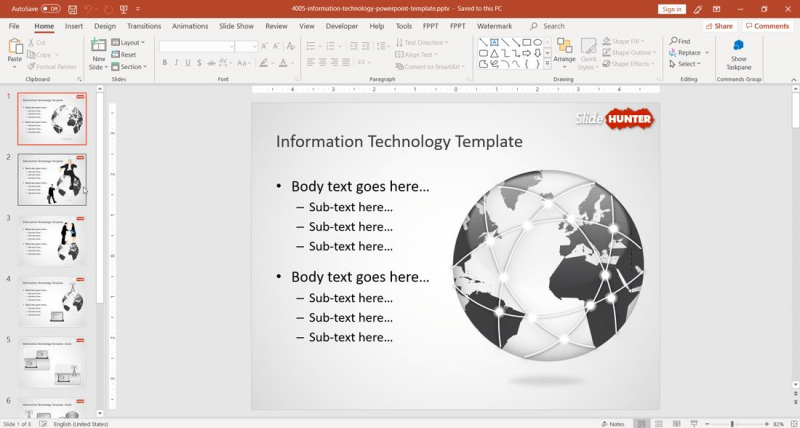 Go to Free Information Technology PowerPoint template
We all know that in this day and age, information is key, and much of our daily lives are now driven by data. Whether you're in computers and technology, or a data scientist, you may find this next template helpful.
The Information Technology PowerPoint Template is another free template that is highly versatile. Aside from having a gray gradient background that easily lets you customize, the overall look of this template is minimalist so you can focus on the data and images.
Like all other templates from FPPT, this template is a complete package from background to images to the layout. This greatly cuts your time in half, so you can focus more on giving a great and memorable sheet.
Now, as for the slides, the high-contrast design allows you to showcase your content. The design is simple but not dull, and there are many opportunities to customize it without compromising its look and readability.
5. Inertia PowerPoint Template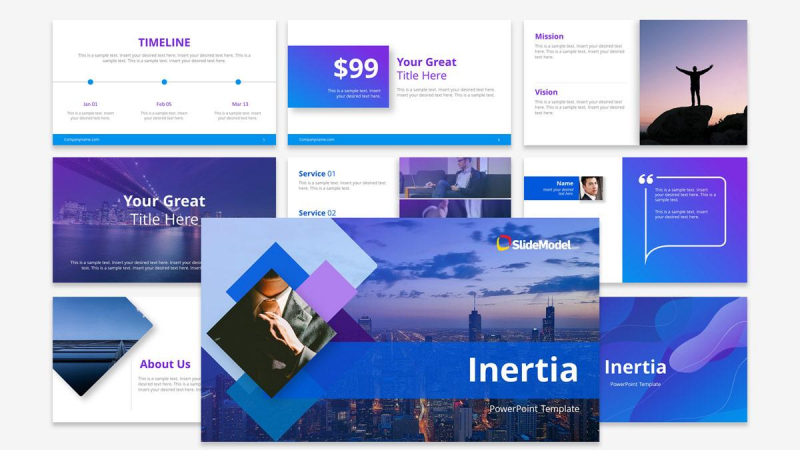 Go to Inertia PowerPoint Template
When it comes to this next slideshow template, there's nothing dull or stagnant about it.  This Inertia PowerPoint Template, also from FPPT, doesn't only look sophisticated–it also looks dynamic. From the choice of color scheme to the layouts and images, the look is on-point.
Many business-themed presentations can use this free template because of its versatile look. But while it can be used for different purposes, it's far from generic.
The geometric shape and the dynamic, modern layouts make it very interesting and eye-catching. From business plans and sales pitches to financial reports and project proposals, this template is perfect.
6. Invictus PowerPoint Template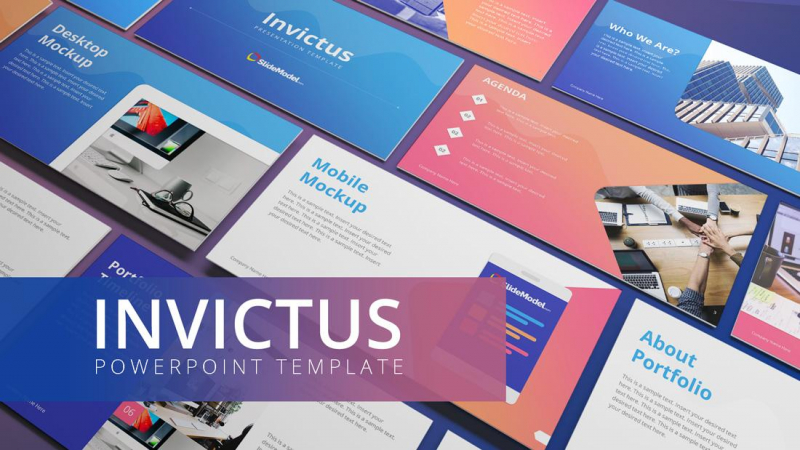 Go to Invictus PowerPoint Template
The Invictus PowerPoint Template is perfect for marketing and sales presentations. With its sleek look and ultra-modern design, paired with an amazing color combination, you can definitely see the template being one of your most used presentation templates.
While this template is in SlideModel, it still is worth mentioning as one of the best-looking business-themed templates around. It features sleek lines and a geometric look that perfectly plays with colors.
This presentation template also comes with its own set of layouts that allow you to transform your deck into whatever you want it to be. Whether you're creating a business plan, showcasing a portfolio, training your staff, or building a marketing strategy, this template is for you.
Final words
Now, what's great about all these slides is that they are all for free. Now, you can create your own perfect and stunning decks without all the hassle and guesswork that are necessary when you start from scratch. In fact, you simplify your work and get more things done faster.