When you start a business, there are several ways you can improve it and have it succeed. When your customers are happy with your business, you can be sure that they will always come and buy your products and services. However, when they are unhappy with your services, you will lose these customers and your business is bound to fail   miserably. You do not want this to happen. As such, you need to incorporate customer feedback as part of ways to help you improve and do better in your business.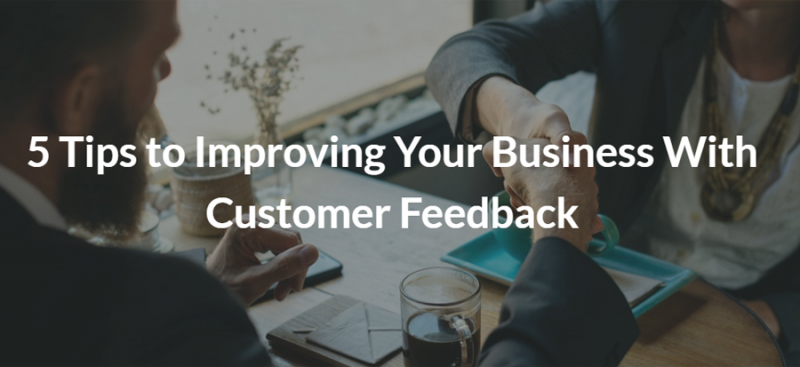 Here are 5 tips that can help you to improve your business with customer feedback:
You can make changes if you have enough data
When you engage your customers in your product dissemination and feedback, you are assured that they will engage with you and tell you what your business needs. If your customers are asking for more features for the products that you offer, then it is time to offer the changes. Your customers are your bedrock and as such, unless you offer them what they require, you will not make as much profit as you would love to.
However, before you can make some changes to your offering, you must have enough data from as many customers as possible. Get their feedback and have this feedback used as part of your product improvement quest.
Helps you dig for insights
If you want to know how your products or business is fairing, it would be good to dig for insights from the people who use these products. This is what customer feedback would do for your business. You could, for instance, have your customers fill a survey of the products that you offer and how they would like these to be offered. Is there a better way of packaging the products or offering the products to the market?
Adding credibility
It is easy to add credibility to your business offers when you add your customer feedback to your website. You could be getting some negative feedback as well as positive feedback and this means that the people who read the positive feedback will be interested in your product offers. The positive feedback and testimonials can help you to increase your business performance because it helps promote your products. It also increases the trustworthiness of your products and services.
Helps in increasing sales
If you are into e-commerce, you can be assured that your sales will increase when your clients read positive feedback on your website. This is the reason reviews are very important to the people who shop online. When you get honest reviews from people who have bought and used your products, it makes it easy for potential clients to know what to expect from your company or brand. With many positive reviews, your sales will definitely be increased.
Shows your responsiveness
You will sometimes get many negative feedback responses from your clients. This feedback can sometimes be good for your business as long as you respond to the feedback politely and ensure that your responses are personalized. This will give you an opportunity to redeem your image and prevent this negative feedback from springing elsewhere. This is good public relations and it shows your clients that you care about their grievances, feelings, and feedback.