Your website should be as attractive and easy to use as possible, ensuring all of your visitors get the most out of their visit as possible. If you make it hard for visitors to find what they are looking for, they are quite likely to go somewhere else.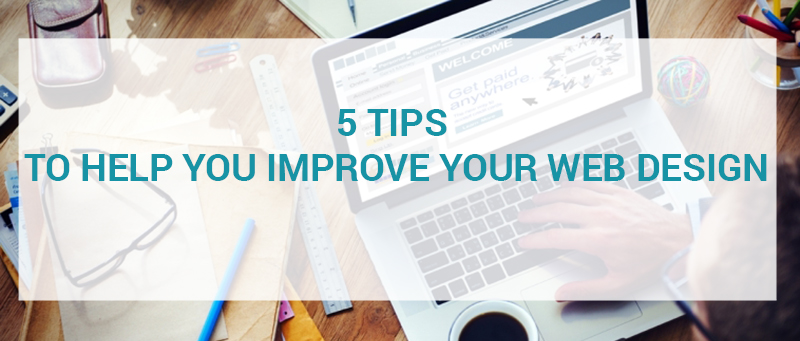 It doesn't matter if you are part of a multinational corporation, or you're working from your office in your spare room, shed, or RV, what matters is that your website looks good. Here are 5 tips that will help you to improve your web design:
Say "Goodbye" To Side Bars
While side bars may have been popular in the past, they're now starting to look a little old, and can detract attention from what's occurring in the middle of the page. Use links and boxes in the center of the page, so that visitors can see what you have to offer.
Studies have shown that most people tend to browse a web page in a specific way. Visitors start by reading the top of the page, before skimming along the left hand side of the page, and noticing content that's in the middle. The shape traced by your visitors eyes is likely to be similar to the letter 'F', so make sure all of your interesting content is located in the popular areas.
Use Bigger Fonts
Let's face it, no-one wants to read tiny font, so do your website a favor and increase its size. The larger the font, the more likely it is to grab your visitors attention and that is what we want. Text that is used at the top of the home page, and header images should ideally be no smaller than 18, otherwise it may get over looked.
Make all of your websites mobile friendly
These days there's absolutely no excuse for having a website that isn't mobile friendly. Many people use their cell phones to access the internet, and a mobile friendly website  is usually a lot easier to use. However, you may want to give your visitors the option to revert back to the traditional desktop setting, just in case they prefer to use it.
Say "No" To Sliders
While sliders on a website can look good, and help people to navigate, they can also be quite distracting. Get rid of your sliders, and keep your website looking a little less busy. This will reduce the number of options that visitors have, making your site a little more simple to use.
Make Navigation As Simple As Possible
Let's imagine that you run an online store, and your customers need to navigate through many different options so they can find what they are looking for. If your visitors need to click more than 5 options to find the pair of shoes they want, they could end up getting bored.
Make the navigation on your site as simple as possible by reducing the options to no more than 4. Let your visitors quickly gain access to those fabulous shoes, making them happier, and your business more profitable.
Your website should not be complicated, it should offer your visitors the chance to navigate fairly easily, on their PC or mobile, without many distractions. Make those much-needed changes today!