If you want to build one page affiliate sites, you need to know how to best approach the design process and content structure before you even get started. Your goal should be to get the maximum exposure and results from the traffic generated to your site, while also providing a valuable service or product in the process. A one page affiliate website is also known as a squeeze page, but there are many ways to go about creating one — which is what we will be covering today.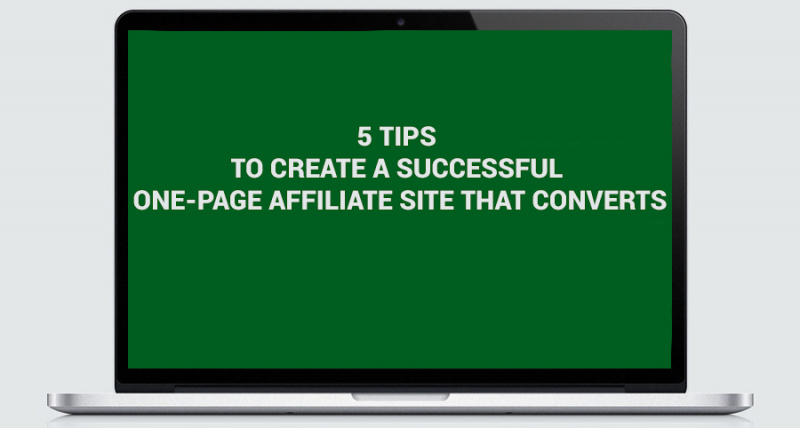 Having a high quality squeeze page is vital for any affiliate marketer who aims to make the most of the traffic generated on their website. With more people joining your list, the chance to make more potential sales also increases. If you want to build your own one page affiliate site today, there are steps you need to follow.
Create a Great Headline that Calls for Attention
Your headline should be interesting and attention grabbing. Remember that it is the first thing your visitors will see on your website hence it should be able to get their attention enough to stay or read more information. It has been found that if you can't keep the interest of the visitors for more than ten seconds, chances are they will leave and you just lost a potential sale. Try out different headlines and choose one that gives the best conversions.
Make your Website Appealing and Professional
Even if it is only a one page site, you should make it look simple for your visitors and most importantly, easy to understand and navigate. At the same time, you also want to gain the trust of your audience and look like a legitimate company in the process. One of the best ways to accomplish this is through the use of a professional logo design. Take a look at any of these custom logo designs to see how brands are relating more with their audience and gaining trust through the use of a professional logo design.
Also, make sure your site design is clean and professional, so there are no issues with trying to get your message across to visitors and the different types of devices they might be using to access to your site. It is ideal to perform regular maintenance on the page and check every now and then if the graphics and links are working.
List all the Benefits and Use Bullet Points
Do not forget to put all the benefits your customers will get if they join your mailing list. Provide compelling information that will make them want to take the necessary action to join your list. It is recommended to use the bullet point method as it is easy to read and shows the benefits more quickly.
Along with listing benefits and using bullet points on your affiliate site, it's also recommended that you include these other conversion boosting tips as well; A/B split testing, using value propositions, creating a sales funnel, addressing your objections and trying to gain the trust of your audience.
Offer Something for Free to Entice Action
If you want your website visitors to give you their email address and name, you should give them something back in return. The goal is to make it worth your visitor's while. To see a positive response, offering your subscribers with free items such as newsletters, eBook and report would encourage them to participate. Give them quality product to effectively build rapport with them. It should not something that will make them want to check out your affiliate website even more.
Not sure what type of incentivization you should be including within your own pop-ups and call to actions? Refer to this list of 27 different ways to increase signups on your site. Best of all, many of the examples in this resource guide are from real websites!
Ensure Your Call to Action Message is Clear
After all the hard work and convincing visitors to believe in you, keep the instructions easy for them to read and understand. The call to action message should be obvious and found in a location that is easy to see. Make sure your "click here" or "order now" button is in big letters in order to make your visitors know what they need to do exactly. To see even better results, be sure to split test with different colors and text sizes to see what gets your audience clicking.
To boost conversions across the board, while also improving your trust and engagement with your audience, be sure to implement each of the methods above. While many of these basic principles might seem simplistic, you would be surprised with how many people are going to reach through this article and simply move on with their day.
Please don't be one of those people. Take action today, and see higher conversions tomorrow!