Are you looking for a lawyer to help you with legal matters? Look no further. You can find the best lawyers online offering the information and services that you need. Lawyers that have properly optimized their sites are easy to find and are perfect to work with. Here are 5 reasons why you should hire a lawyer a lawyer competent in SEO: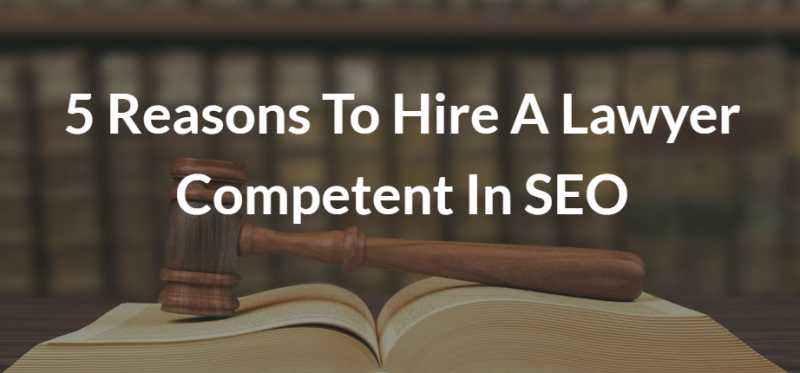 The Lawyer Has Built Organic Traffic
A lawyer competent in SEO understands that there are two major ways of getting traffic to their website and that is by paid traffic and organic traffic through proper search engine optimization which is the best system to use.
Why is this important? The lawyer understands what the people are searching for on the internet regarding legal matters and has gone all out to develop content and provide services that are tailored to meet the needs of the masses. Such a lawyer is worth hiring as he is up to speed with the present trends in legal matters.
   The Lawyer Is Visible 24/7
Running a website that is properly optimized on the search engines gives a lawyer visibility to many people 24/7. Say you have a legal matter at hand and you need to consult a lawyer at the soonest time possible, you can always find quick help online.
For a lawyer who is competent in SEO and has their website appearing in search engine results and with a responsive customer care service, you can easily access them and have your legal matter sorted out. This is reason enough to hire such a lawyer.
   The Lawyer Has A Good Working Strategy
Lawyers competent in SEO know that a good SEO marketing strategy helps them tap into more clients and offer legal services to them. They offer well-calculated solutions with an understanding of the different case scenarios that people present them with.
They employ good working strategies that allow them to handle their large client bases' legal needs from start to finish. If they have a good marketing and working strategy with proven results, then that is reason enough to hire them.
   The Lawyer Is Constantly Expanding Their Brand
Constantly reaching out to new markets and revealing their services to new clients is something that a lawyer competent in SEO keeps doing and this makes them a market leader.
A lawyer who isn't fixated on one audience but is constantly striving to make their legal expertise and professional services known to people far and wide is focused on offering professional services and highly reliable. Hiring such a lawyer guarantees good results.
   A Lawyer Competent In SEO Has An True Track Record
A true track record means that there are testimonials from previous clients that you can find on their websites that speak of how excellent this lawyer is when handling legal matters.
Proper optimization of their sites on search engines gives them access to many clients who work with them, put their skills to the test and give testimonials of their professionalism which speaks volumes about their expertise.
Such track records give you confidence and reason enough to hire such a lawyer, knowing that you are working with the best in the industry.
Conclusion
If you are a lawyer with a website for your business, there is more benefit in optimizing it. Consider getting lawyer seo services for your site.