You set up a blog, build it up to become decently successful, and push out fresh and valuable content at a rate that puts even your most prolific competitors to shame. You gather a large community of readers who actively debate your topics in the comments. Your PPC advertising ensures you a decent revenue… but somehow, even though you've read that it is customary, advertisers don't seek you out with their offers for banner ads, campaigns, and review requests. The reasons for this can be multiple, but sometimes the explanation is simple: your contact form is not working right.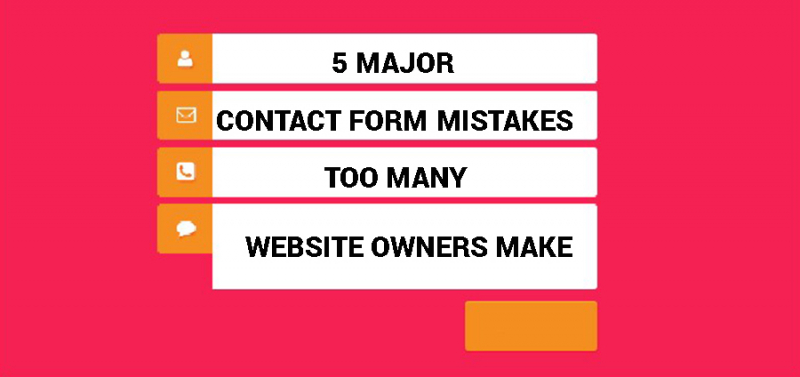 While doing blogger outreach for an online marketing company, I've stumbled upon an incredible variety of contact methods published on blogs and other websites. Unfortunately, there were many times when, even though it was important for me to contact the website owner, I failed – and most of the times, it wasn't my fault. Some webmasters spend a lot of time – and sometimes considerable amounts of money – on creating an attractive website with a great potential for advertising revenue, which fails to come because of a trivial mistake: a contact form that doesn't work. Here are the most common mistakes I encountered.
Missing or broken plugins
This is a mistake made quite often by WordPress users: they install a template that comes with a pre-built contact page, complete with the shortcodes needed to embed the form itself – and they fail to install the plugin needed to generate the form and handle the input. This is a mistake that's more common than you would think: I've stumbled upon hundreds if not thousands of websites showing [ninja_form id=1] instead of a contact form.
Make sure to check whether your form is displaying or not when launching a new blog or switching templates.
reCAPTCHA
reCAPTCHA is a wonderful tool offered by Google free of charge to help fight spam. That until you use it right – if not, it can be a major obstacle in communicating with your potential advertising partners. Because reCAPTCHA has a rule that states "one reCAPTCHA, one website", which is often not observed by webmasters, resulting in an "Invalid site key!" error message, and the impossibility to submit the form.
And please don't use two CAPTCHAs – you might come off as a paranoid person with a spam-phobia.
Alternatives
Many webmasters should at least take a look at the contact methods available at https://www.redflushcasino.com/. The website offers its visitors many alternatives to get in touch, ranging from a live chat service to email, Skype, WhatsApp, and several telephone numbers. While we can't expect all webmasters to do the same, it would be nice of them to publish at least an email address for those interested in contacting them to use in case their contact form is not working. But there are so many of them who don't…
Speaking of email addresses
When you publish an email address on your website, please make sure it actually works. Don't just slap an "info@" address on your website without setting up at least a catch-all on your mail server. And make sure to publish the correct address, too – a typo, especially when it has the [email protected] format, can stop all important emails from reaching you, and so does allowing your mailbox quota to be exceeded.
And by the way, please stop styling your email address, especially in "mailto:" links. [email protected] is not beautiful, it doesn't look professional at all and can drive people crazy.
Keep the required fields to a minimum
Last but not least, try to see your contact form from a busy professional's perspective. How long does it take for somebody to complete it? How many fields does he or she have to fill? Would you feel comfortable about filling such a contact form, sharing that much information with someone you don't know?
Asking for your visitors' country, city, and perhaps their phone number is fine – but don't make these mandatory, especially when the only information you need to communicate with them is their email address (and perhaps their name). And please, don't overload your form with fields like appellative, title, ZIP code, shoe size, and what you've had for breakfast. You can find out all the necessary information about who you are talking to later on when it becomes necessary.