Local SEO helps connect businesses with local clientele interested in their services within a local area. You, as a business with a product or service offerings in a specific locality should position your website in such a way that you are able to capture the local traffic and make sales. To do this effectively, you need to implement a few SEO strategies.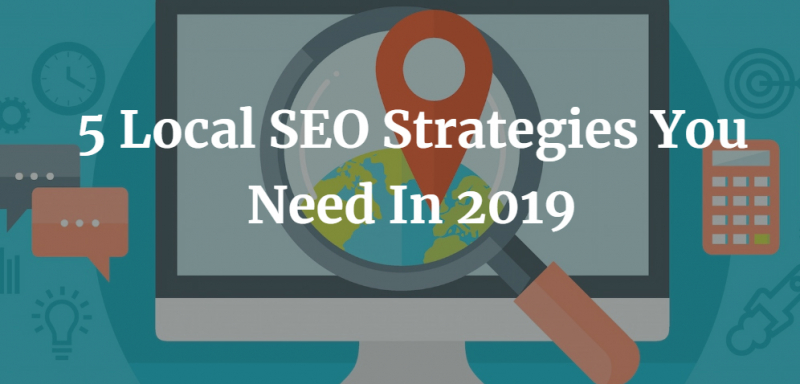 So here are 5 local SEO strategies you need in 2019:
Do Proper On-Page Optimization
Your business website should be well structured to enable search engine bots to read it and index it. This then calls for you to use headings and keywords that are relevant. The URLs on your site should be properly structured with keywords that incorporate your city and locality in the description tags and the meta title.
Optimize Your Listing On Google My Business
Google My Business can be described as a listing for your online business that appears on the search results when interested customers click through a list of suggested businesses in your target niche or industry when doing a local search. Your website listing should also appear on Google Maps.
Your Google My Business listing should provide useful information regarding your business such as your telephone number, business address, opening and closing hours. Setting up a Google My Business profile will help increase your local searches and improve your local search ranking.
Build A Strong Social Media Presence
Social media channels are a good avenue that you can take advantage of to connect with local customers, link them with your business, and make sales.
Ensure that your social media platforms are optimized with content and keywords that target your business location. Geotagging images and promoting activities happening within your locality will help search engine bots know that you have a strong presence in your target local area and this will improve your local rankings.
Get Reviews
Positive reviews help to convert traffic into click-throughs and then turn these clicks into conversions and sales. Research shows that over 90% of online shoppers are influenced to make purchases by the online reviews left by previous customers. They have complete trust of these reviews. This then calls for you to seek for authentic positive reviews from your local customers.
There are different platforms that you can use where customers can leave reviews for your site. These include Yelp, Google Business Listing, Bing, etc. Once customers get a product or service from your business website, you can ask them to leave a review by providing a process which they can follow such as an online form they can fill.
Keep Your Name, Address, and Phone Number (NAP) Consistent
NAP citations are used in local directories by Google and other search engines. These citations are a ranking factor and they determine how authoritative your business is in your local area.
This NAP information should be well displayed on your website's home page more so on the footer and this information should be consistent with what you've provided on your local directory.
This way the search engines will be able to show your business on the local search results. Ensure that your business is listed in your local online directory.
Conclusion
If you find all these local SEO strategies too overwhelming to implement by yourself, you can outsource the services of SEO agencies to help implement them for you.