Website templates are an important part of website designing. Website developers pay special attention to template design because of the vital role that website templates play in successful website designing. Without a good template, your website is nothing but a representation of coding language upon which you can hardly see or access anything. The advancement in the principles of website designs has established some rules which need to be followed in order to make a good website design. Here are a few things to consider before you design templates for a website: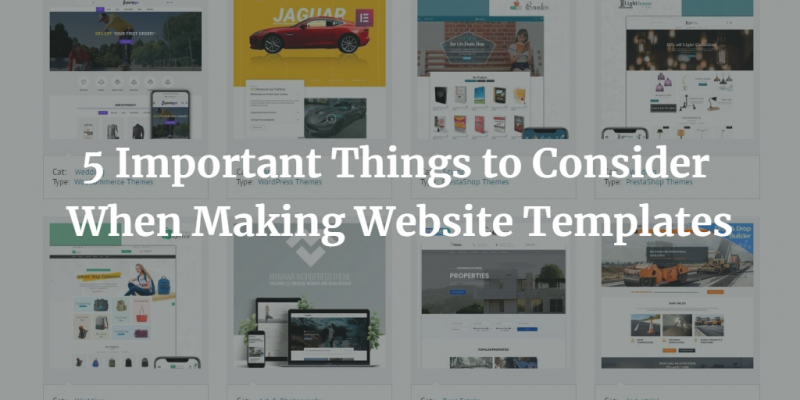 Focus on the type of website:
Each and every website is designed for the accomplishment of a purpose. You do not want to go adrift from the purpose of the website while designing a suitable template for it. Website templates help in enhancing the purpose of the website which in turn helps in channeling more visitors to the online platform. Focusing on the type of website is important in order to design a good website template. For instance, if the website belongs to culinary section, you will need to add descriptive sections along with pictorial grids in order to design an appealing template, similarly, for e-commerce websites, a template with a lot of grids for product display works well.
Adopt a minimal approach:
Although the common stance directs towards the incorporation of many design elements into a website template, the reality is quite contrary. The modern website template designers are more focused on adopting modernistic minimalism instead of cluttering the template with too many design elements. Minimalistic website templates help in easier navigation of the website and remove quite a good deal of clutter from the vision of the viewer.
Responsiveness is a must:
Responsiveness is the key to the success of any website. A website template which takes too long to load is a straight out NO. You do not want to displease your clients with an unresponsive website which is a waste of their money. Make sure to design the website template in such a manner that it responds quickly and smoothly. A responsive website template will not only help in improving the performance of the website but also help in increasing ROI for the investors over the long run.
Prefer flexibility and customizations:
There is no hard and fast rule for designing website templates. It all depends on your creativity and ability to manage too many elements in a limited template area. Many template designers tend to create a static website template which does not support any kind of customization or flexibility. Such templates lose their value over time. A good template shall be able to incorporate widgets, additional site sections, and a few other things in order to provide a greater degree of flexibility.
Create an SEO friendly template:
An SEO friendly website template is a must have in today's online world where most of the websites depend on SEO for improving their SERP rankings. For this matter, the template you design must support high-quality pictures, multiple fonts, and visible textual sections.