Web hosting is the server that is provided to the website owners to allow their websites to be viewed on the internet. The service is offered to let easy accessibility of the site on different search engines. Customers want to have a free and fast access to the website at any time of the day and using various devices including the mobile phones.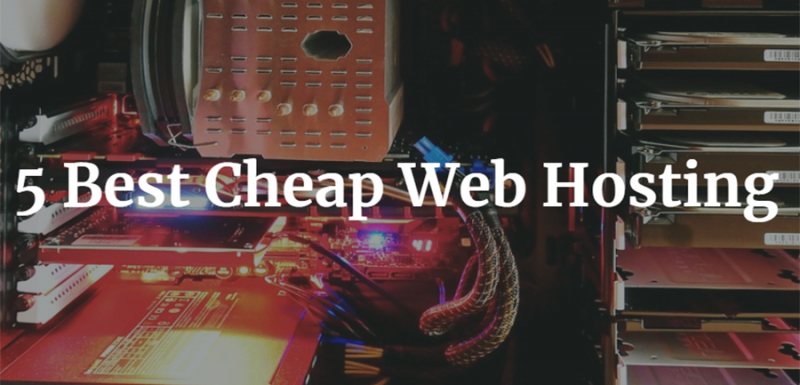 Therefore, for this to be easy and possible, you require a reliable and robust web hosting.There are different web hosting packages on the market, but the following are the best and the cheapest.
Five best cheap web hosting:
1. iPage Web Hosting
Get this reliable and efficient web hosting with just two dollars. It is designed with great features that will enable you to run your website smoothly and efficiently. Some of the features that are found on this web hosting includes over 1000 free templates that allow you to customize and design your websites.
There are free marketing tools which are essential for selling your products online if you are using seo marketing. The web hosting also comes with a free domain registration for your business.
Other features found on this service include free email address creation and management plus free drag and drop website, builders. For quality purposes, iPage is provided with a warranty of full amount return in case of anything.
2. HostGator
If you are looking for an easy to install web hosting service, then Hostgator is one of the best services to buy. Hostgator has excellent features and tools that will help your online marketing to be efficient and smooth as well.
Some of the features that one can find reliable includes the drag and drop service that enables you to create a website of your choice quickly. There are different themes that you can select to craft your site depending on the kind of products and services you are offering.
The server is designed with one click effect that allows you to either create your online blog or website with just a click of a button. The price is also fair since it does not cost more than five dollars.
3. BlueHost
Bluehost is rated among the best web hosting services in the entire world. It is easy to install and comes with great features as well. It comes with free website installer that enables you to create your blog or marketing website with just a click of a button.
Bluehost is compatible with the majority of search engines such as the Google, Bing and also Yahoo.In case of any queries or complains you can reach the customer care desk at any time of the day as the services are offered 24 hours a day.
Also, the site provides full amount return guarantee to all their customers. Check MangoMatter site to learn more about the credibility of the web hosting and how to use the different features available.
4. 1&1 Web Hosting
Although this is the cheapest web hosting service on the market today, it is packed with excellent features. First of all, it is 100 percent reliable regarding speed. Your customers can quickly and easily access your website with no problems from any devices.
It comes in different packages for customers to choose from. The packages include the Basic, unlimited basic and unlimited pro package. One of the significant benefits that the website owners benefit from this site is the fact that they can quickly adjust and create a website at any time.
5. Host Papa
Whether you are a new website owner or you have owned your website for a while, Hostpapa is one of the most excellent web hosting servers to consider having.
It is equipped with different packages that are essential for various customers. The choice of the page to use is influenced by the size of your website and the features you need too. The server is safe and has fast accessibility as well.
If you need reliable and fair priced web hosting for your website, the above are the best servers to buy. They are cheap since they will only cost you less than 5 dollars and have great features to enable you to run your website smoothly and efficiently too.