Businesses with well-aligned marketing and sales teams are often more successful. A report conducted by Hubspot found that when these business units were aligned, revenue increased by over 200 percent.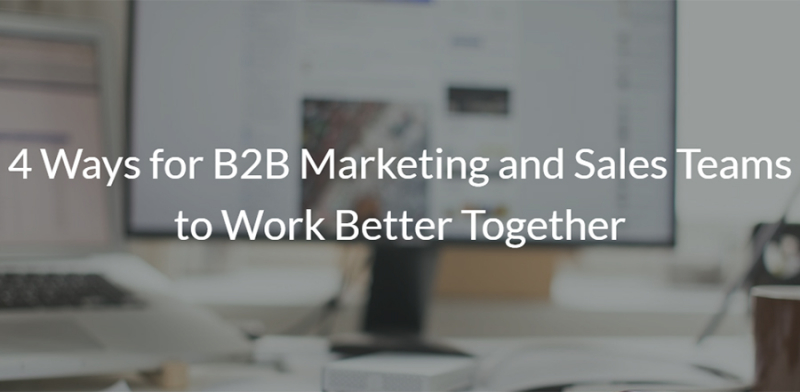 Of course, creating and maintaining this alignment takes significant time and effort. As the stereotype goes, marketers think salespeople are short-sighted and obtuse, while salespeople think marketers are flighty and detached from reality.
But as the best marketers and salespeople know, one team cannot function well without the other. This article will help readers working in B2B companies develop a culture of cooperation, teamwork, and alignment between these two critical go-to-market teams.
Create a shared SLA
An SLA stands for service level agreement. Usually, this type of agreement is formed between a seller and a customer as a way of outlining responsibilities. A standard SLA helps to keep both parties accountable and aligned.
Similarly, a marketing and sales SLA can help to define responsibilities between teams. This helps both teams hold one another accountable and makes it easier to understand where responsibilities lie.
As a report conducted by SiriusDecisions shows, nearly 60 percent of sales and marketing leaders say alignment between teams is "poor." Developing an SLA can help marketing teams work better together.
Some common items to outline in an SLA include an outline of the marketing and sales funnel, definitions of various lead stages, and target conversion rates for stages within the funnel.
Implement account-based marketing strategies
Findings cited by Salesforce show that 90 percent of marketers consider account-based marketing to be important. Considering an account-based approach can help sales and marketing teams become better aligned, these findings are no surprise.
Account-based marketing refers to the process by which marketing teams work with sales teams to select a series of target accounts. These accounts fit the company's ideal customer profile, which means they would be a great fit for the business.
Once selected, marketing works to engage key members of the target account. Once engaged, marketing sends the leads to the sales team.
This process helps to align teams because both entities agree from the start about what kinds of companies should be defined as qualified. Then, marketers and salespeople work together by implementing a variety of tactics.
Develop shared KPIs
Shared goals help to unify teams. By creating a shared objective for marketers and salespeople, business leaders can ensure both teams have an incentive to work on complementary projects. According to data cited by ZoomInfo, well-aligned sales and marketing teams saw a 24 percent faster increase in revenue than teams that were not well-aligned.
Usually, shared marketing and sales goals will require that marketing teams look further down the funnel to evaluate performance. Whereas many marketers are accustomed to building a goal related to the number of leads generated or the number of prospective customers provided to sales, a shared goal will mean marketers must look beyond leads.
A good way for both teams to align is by creating a shared pipeline target. This number refers to the potential revenue that could be generated from qualified sales opportunities. Since pipeline should only be associated with highly-qualified leads, this encourages marketers to develop well-targeted campaigns.
Conversely, a shared goal can motivate marketers to keep salespeople accountable. For example, a marketer who is assessed by pipeline creation may take it upon herself to question how the sales team handles leads. This cross-team oversight can help both teams to work more efficiently.
Incorporate the marketing team into sales meetings
Marketers and salespeople must maintain a constant dialogue in order to be well-aligned. A good way to do this is for members of both teams to meet regularly. This forces team members to discuss topics that might be difficult to discuss otherwise.
For example, a report cited by Terminus found the number one challenge for B2B marketers is generating high-quality leads. This is a broad challenge that requires many talented minds to solve. By talking with salespeople, marketers may find it is easier to find effective solutions to such issues.
Conclusion
Whether you're launching an image search engine or a social network similar to the one in the film People You May Know, creating a well-aligned marketing and sales team can be a challenge.
Building alignment requires shared goals and shared expectations. Encouraging marketers and salespeople to meet regularly and adopting account-based marketing strategies can be helpful when encouraging teams to work in unison.
Once solved, business leaders can stop worrying about revenue generation and focus on other challenges, like establishing business credit.
What tactics outlined in this article are you excited to implement in your organization?