As you may have noticed some videos are much more effective at fulfilling their goals than others. If you're scratching your head and wondering why your videos aren't as effective, the answer is simple: They probably aren't designed to be.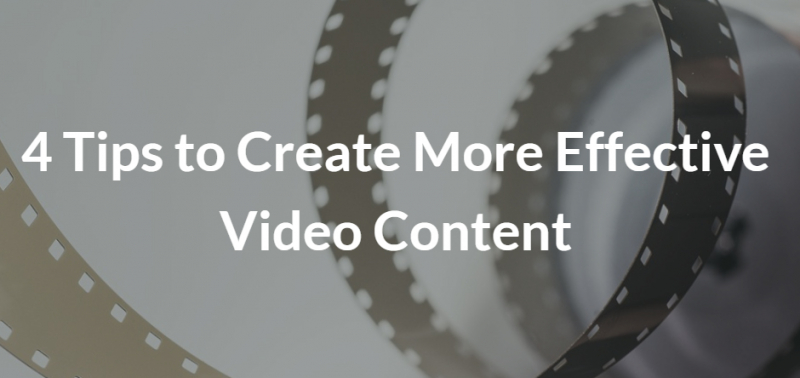 Effective video content doesn't happen by accidence, nor is it some grand coincidence. In most cases video content that is effective is designed that way right from the get go.
Make no mistake that is a good thing, because it means that with a few of the right tips you can start to create more effective video content as well:
Define one goal for each video
Every time you want to create a video, you should first ask yourself: What is the goal that you want this video to achieve? That one goal should be the core of your video, and its message should be designed in such a way that it helps you to attain it.
Always make sure that you only define a single goal for each video – no more than that. Having too many goals and messages in a video can be distracting, and will make the video much less effective.
Plan videos that are short and direct
As you start to plan your video, you should try to make them as short and direct as possible. Shorter videos are able to retain more viewers, which means that more people will stay, watch, and take action based on your video.
Keep in mind that when you 'plan' your video you should be as thorough as possible and map the entire video out from start to finish and write a script. After you're finished, you should go back and vet your plan to see if you can make the message any more succinct or deliver it better.
Never ignore the audio and its quality
All too often the audio that is recorded along with the video is ignored, and that can be ruinous. Poor quality audio is not only unappealing, but viewers are less likely to keep watching a video if it's audio is tinny or crackles and buzzes.
In short if you want your video to be effective it is crucial that you record high quality audio. For that you'll need a good microphone, and will have to find ways to minimize the background noise.
If all you want to do is record a voiceover, you may want to consider recording it separately in a quiet setting and then adding it to your video during post production.
Track the performance of videos and analyze its metrics
As you publish video content, you should try to track how it performs using Google Analytics or some other tool. Based on the data that you gather, you can then try to figure out why some of your videos perform better than others, and identify what you did right or what you did wrong.
Over time this will allow you to learn from each video that you create, and you can then apply those insights in future videos to improve their effectiveness.
Keep in mind there are lots of ways to create video content, and recording live video is just one option. Another that you should consider is screen recording, as it is easier to pull off and all you need is the right software, such as Movavi Screen Capture Studio (www.movavi.com/screen-recorder/).
By exploring your options and coupling them with the tips listed above, you should be able to come up with much more effective video content. All that you need to do is take a step forward, and apply what you now know the next time you create a video.