SEO is an effective online marketing technique that you can use to boost traffic to your website, rank top on search engines, and achieve your desired conversions. There are SEO companies that offer several SEO services that you can work with. But how do you determine the right company to go for?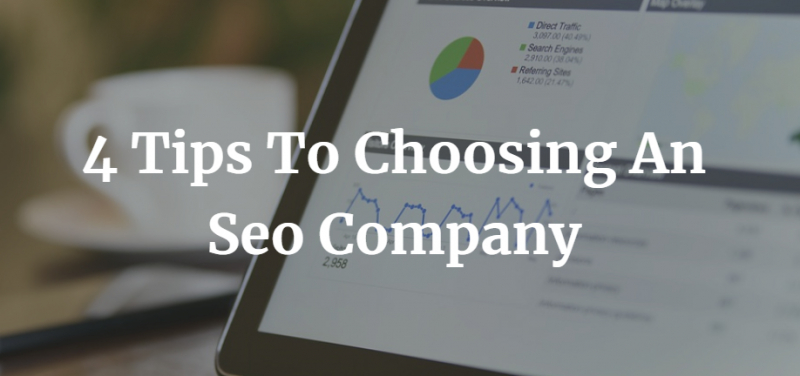 Here are 4 tips to choosing an SEO company:
Check On The Company's Reviews And Testimonials
One very effective approach to use to choose an SEO company is to check the kind of reviews and testimonials it has online. You can get these reviews and testimonials online from a company's website and other sources on search engines like Google.
References also come in handy. You can request a company to connect you with present or previous customers that they have served and get in touch with them. These clients will give you unbiased information about the company's performance and how satisfied they are with the services they have received.
Perform Several Consultations
Regardless of whether an SEO company is within your local area where you can walk into their offices or is in a far-off distance, scheduling for a consultation with them is vital, the reason for this being that you'll be able to get more details about them.
During this consultation, the company will be able to provide you with the kind of strategies they will use to boost your online business and give you a top rank in your target niche. You'll also get a personal feel of the kind of customer relations the company has, their level of skill and performance, and their commitment to serve and meet your SEO needs.
From this consultations, you'll be able to ascertain which SEO company to go for.
Define Your Need
Identifying what you need an SEO company to do for you will determine the company you choose to work with. There are various things an SEO company can do for you such as link building, link removal, PPC management, SEO audit, reputation management, content marketing, retargeting, ongoing SEO services among other things.
Identifying what you really need will then help you to analyze an SEO company's profile for the kind of services they offer, and out of this, you'll be able to choose the company that best appeals to your needs.
Check On Their Pricing
Pricing is important since you'll be spending money to get a service that is meant to achieve certain results. SEO isn't expensive. There are gluttonous SEO companies out there whose aim is to overcharge and rip clients off of their money. This shouldn't happen to you.
SEO costs less compared to other marketing avenues available such as PPC ads and video marketing so you shouldn't shy off from it. You should carefully analyze the pricing of services that an SEO company has set up and compare it to the pricing structure of other companies. Perform due diligence to ensure that there are no hidden costs that will come up once the contract has been signed.
Choose an SEO company that offers value for money, with reasonable pricing and quality services.
Conclusion
These four tips will help you to choose an SEO company that will provide the services you need. To save you from the hustle of searching for such a company, here is our recommendation for an SEO company that is tried and trusted by many.