ClickFunnels and LeadPages are two types of tools for creating landing pages and different people prefer either one because of a number of factors. The one thing to note is that both of these tools are effective in creating landing pages but the preference will be based on the differences that each tool has. These two also have the same features which make deciding the best one to use a bit of a challenge.  However here is an in-depth comparison between the two to make easier to determine which the best one to use is.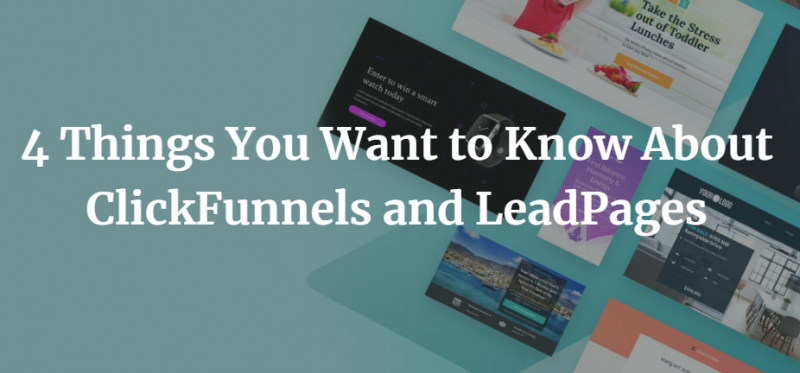 Purpose
The two tools are used to make landing pages but each has the ultimate purpose that it was made to do.  ClickFunnels can be described as an all in one sale funnel application. This means that it is a useful tool for making landing pages with all the features. The features also include email autoresponder, and hosting events. All these functions are done in a single application. LeadPages, on the other hand, is a tool which is dedicated to solely creating landing pages. This means that if you need to create only landing pages then this is the tool to use.
Ease of use
The other distinguishing factor is how easy each tool is easy to use. ClickFunnels has an easy drag and drops landing page builder. This makes it easier to use even for a beginner since it does not require a lot of skills to create a landing page. The process of creating a landing page and customizing can be done in simple steps and in a matter of minutes. LeadPages, on the other hand, is much complex in making landing pages as it includes very many features. The reason as to why this tool is more advanced is because its main purpose is for making landing pages.
Features
The two tools come with a wide range of features that one can use in making good landing pages. However, depending on what an individual is looking for one may go for one over the other. ClickFunnels does not have a very effective sales funnel which is very effective for businesses who want to make events for their product. LeadPages also has far much advanced when it comes to features for making a landing page. It comes with a wide range of template which one can use.
Pricing
The next most important thing that one needs to know about these tools is their pricing. This is because each of them offers a different pricing method. LeadPages has a much flexible paying method. This is because they offer three packaging plans which are all paid annually. There is a standard package which is suitable for home business and solopreneurs. There is the pro package which is for small business and finally the advanced which is for agencies and marketing teams. ClickFunnels have subdivided its plan it packages and has a value plan where they list all the features which come with the package.