More than 50 percent of incoming traffic on all websites are classified as organic or the type of traffic that is initiated by online consumers in search engines. This is in contrast to paid-to-click services advertisements. What this tells you is simply how powerful search engine optimization or SEO tools can help you take advantage of traffic that can help you grow your business. SEO can undeniably help you promote your brand and attract more customers to your website. A number of SEO professionals who promise to take your website to the next level actually do their work as good as advertised. But if you are not careful enough, you might just come across some incompetent SEO service providers who will just waste your time, effort, and money.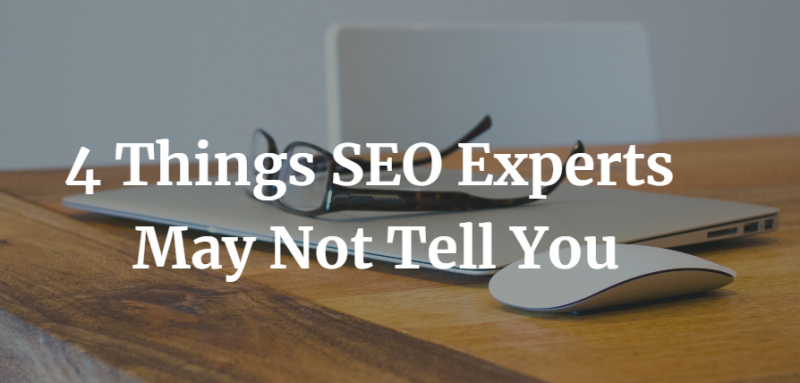 At first, you might think that everything that an SEO service provider does is something extraordinary. But the truth is that there are many simple things that they don't want their clients to know. Here are the top four things that your SEO expert may not tell you.
You can learn SEO strategies over the internet.
Many SEO experts explain their techniques and approach in such a complicated fashion that some people may get easily intimidated. But the truth is that everybody who has access to the internet can become an SEO specialist themselves if they just invest their time and effort in doing so. Learning SEO strategies is not as difficult as getting a new degree or learning a new musical instrument. You can find lots of resources over the internet that can help you master many different things from the basics to the advanced concepts of search engine optimization. By investing a couple of hours a day, you can work your way into becoming an SEO expert in a matter of weeks or months.
No one knows how Google does the algorithms.
If your SEO service provider tells you that they know exactly how to boost your website's SERP (search engine results page), then it is very likely that they are not telling the truth. Nobody knows how search engines such as Google, Yahoo!, and Bing ranks website in a search results page but only the developers themselves. While they can suggest ways on how to make your website more appealing to readers (and thus gain more traffic) the exact science behind the algorithms is still a mystery for many SEO experts.
SEO is not a one man's job.
While SEO can be an easy concept for experienced web developers, these tasks can't be done by just a single person only. SEO is actually an art that requires constant experimentation and trial and error. A team or even an entire department of SEO experts should be there to suggest ways on how to improve your website efficiently.
Rankings are not guaranteed.
One of the most attractive promises by SEO companies is the assured first page rankings for their clients. Only a few are actually capable of doing this. With too many variables in the equation, it is actually nearly impossible to know which particular strategies can help boost your website to the first page rankings. Competitors and the effect of local SEO must be taken into account as well.