It's now evident that online businesses are clinching to their reputation and getting noticed every day. However, this doesn't come easy, as it takes an active online presence for this to happen. In this day and age, almost everyone is on the web searching for goods and services. This has especially been brought about by the increased use of mobile devices. Online presence helps to reinforce your brand and all that you've got to offer to your target audience. Putting up a website isn't that hard. There are so many blogging and website building tools (including free ones) out there that may help you out in setting up a website.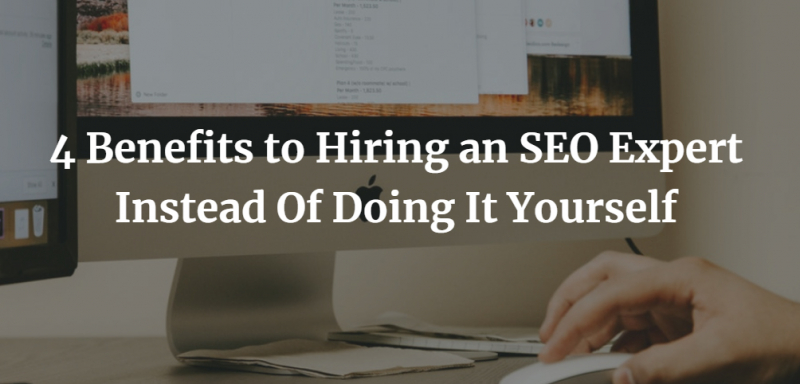 But setting up a website is just one piece of the puzzle. For you to reap the maximum benefits of online marketing, search engine optimization is an ultimate necessity. It helps in ranking your business high on search engines and maximizes traffic to your site, which will, in the long run, translate into sales conversions and maximum profits for your business online. However, for you to achieve your business goals, it would be wise if you hired an SEO expert rather going DIY. Below are 4 benefits to hiring an SEO expert instead of doing it yourself.
Experience
You may have some basic understanding of SEO, but it takes more than just that to see your business rise the ranks on Google. SEO experts have the experience it takes to ensure that your site gains attention and visibility to increase in ranking. It involves in-depth analyses, predictions, and research to get your web pages to the first pages of search engines. Hiring an SEO expert also ensures that you have what it takes to handle certain unexpected changes such as algorithm updates as well as avoiding penalties.
Results
The reason behind search engine optimization is to attract more traffic to your site in order to capitalize on sales. It's the traffic that eventually converts into sales. Hiring SEO experts will help your site rank well in the search engine result pages. Once your site has the exposure required, you'll be sure to expect good results. SEO experts help you decide on the most relevant keywords, the best ideas to ensure that your pages load faster, and ensure that your site actively competes with your rivals.
Creates More Time to Focus On Other Business Priorities
Search engine optimization is broad, energy and time-consuming. It really takes endurance to ensure that everything is in place. For instance, it involves ensuring content is continually updated, expanding your link building, finding means to speed up the site, and so on. As you can see, it's too much work. Doing it by yourself will only eat up more of your time. Hiring SEO experts will help free up more time for you to concentrate on other important business matters.
Higher Returns
One thing is for sure, SEO is more than just the organic search rankings. It's an investment that ought to give back returns. Hiring search engine optimization experts help increase the quality of targeted traffic to your site. Like we had earlier mentioned, this is what converts into leads or sales. In the longer run, it increases the Returns On Investment (ROI) by a great percentage. Search engine optimization is an investment worth hiring experts for.
Hiring an SEO expert for your website can save you a great deal of trouble, time, money, and energy. It is, however, important that you consult with the best in the industry, a good example being the Scott Keever SEO Naples fl. The trick is to work with an SEO agency that has what it takes to see your website not only improve in the SERPs; but also remain competitive for the many years ahead.