If you are planning a party or other event, it is extremely important to create attractive invitation templates. Such a tool helps you gather as many guests as possible. Keep in mind that your invitations should convey the atmosphere of the event. That is why you should take some time to come up with a relevant design and filling of the card.
In this article, we will share 30 best free invitation templates for Photoshop. Using them, you will save enough money and time on the professional invitation design. Every template is 100% customizable so you can edit that using Adobe Photoshop.
1. Time to Party Invitation Template
Organizing an incendiary party? This bright time to party invitation template made in red, yellow, and black will attract the potential clients. The girl at the center of the photo immediately conveys the vibe of the event. Enjoy these template from Elegantflyer!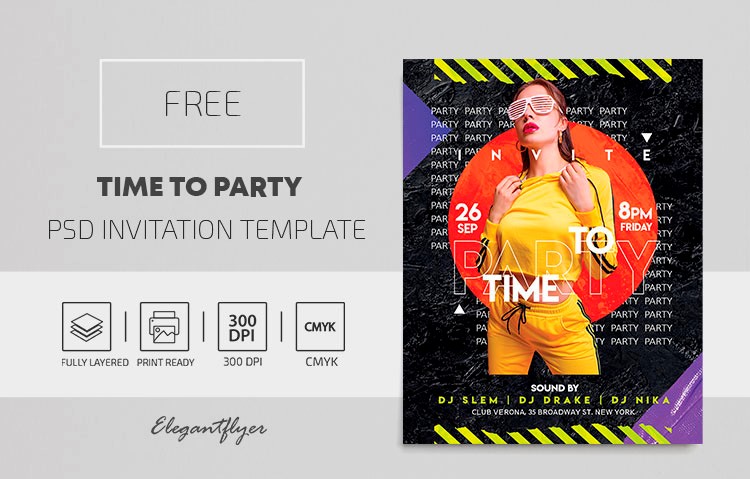 2. Education Invitation Template
It is always the perfect time for education. If you want to promote your online lessons, this education invitation template is just what you need. Made in a formal style, it encourages people to start learning something new. Get more Free Invitation Templates in PSD from Elegantflyer.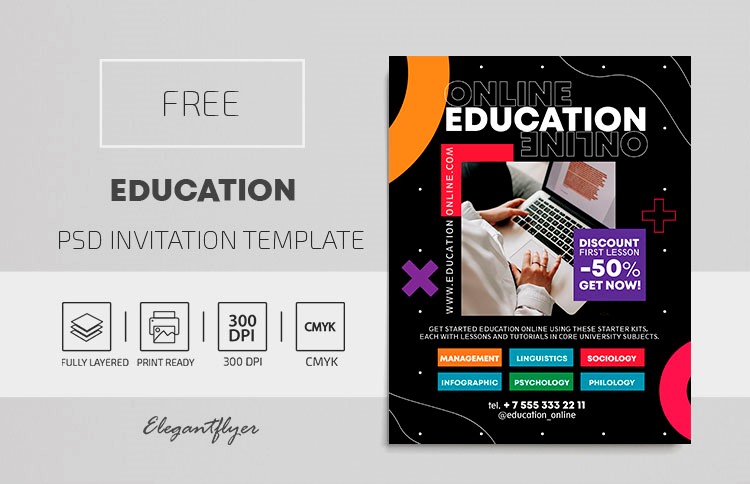 3. Birthday Invitation Template
Birthday is the perfect time to hang out with friends and family. No matter what time of party you are planning, this Birthday invitation template will come in handy for you. Just check out this luxurious design!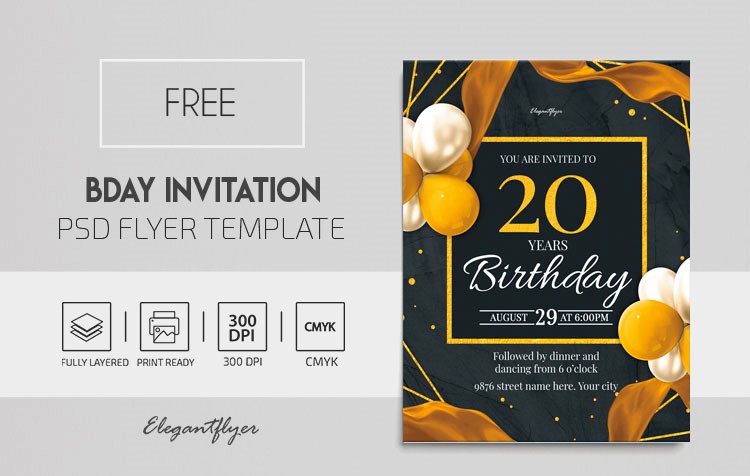 4. Church Conference Invitation Template
An event like this requires a special designer template. Why not download this church conference invitation template made in white and green? Make sure to specify the date and the location of the event.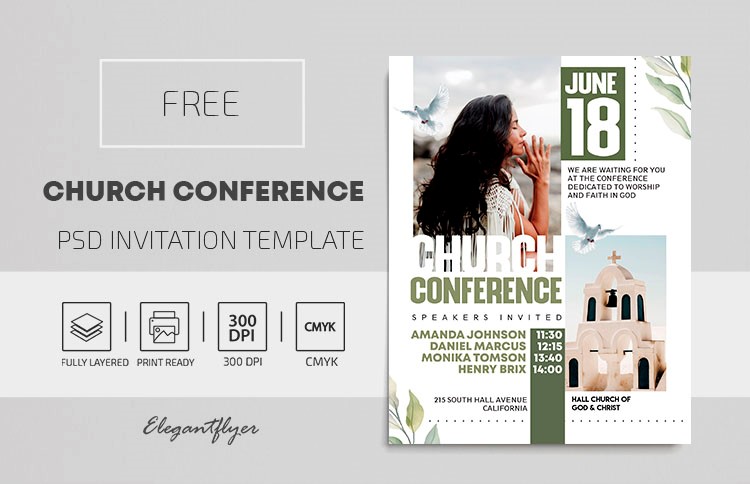 5. Beauty and Spa Invitation Template
Everybody needs some time to relax. If you are promoting beauty & spa salon, pay attention to this invitation template. Such a design attracts attention from the first sight.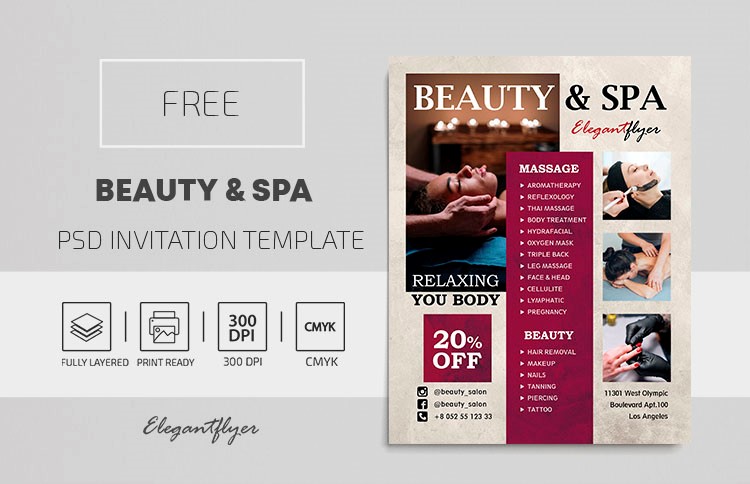 6. Trifold Brochure for Funeral
It is very important to respect the memory of the dead. Such a brochure will help you invite all the special guests. It is the last event for that person so you should take some time to edit the template.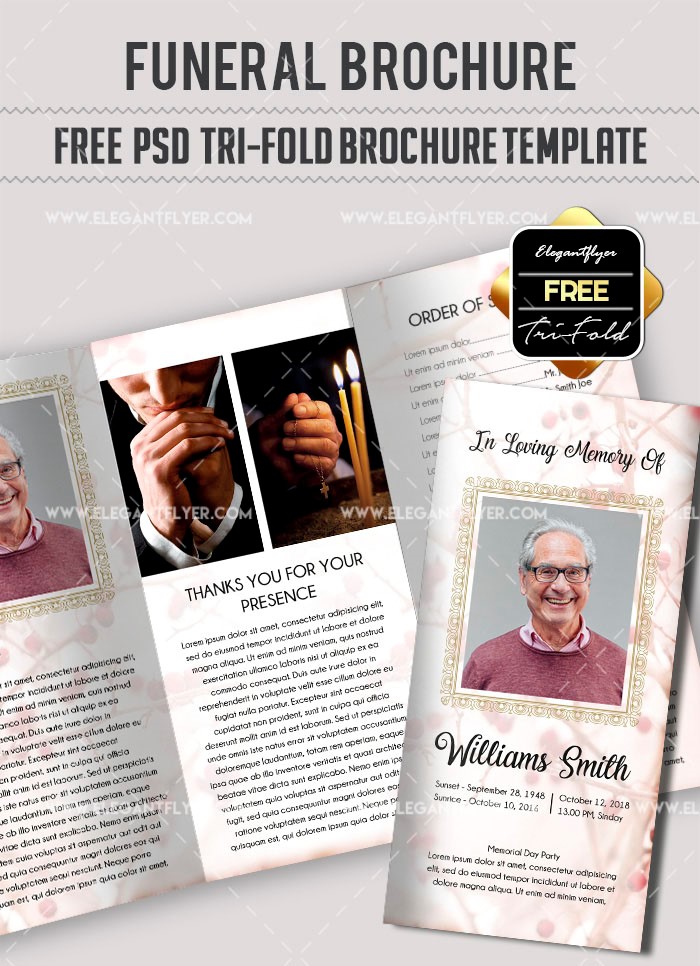 7. Social Work Invitation Template
Even professional social work needs an appropriate invitation template. Look at this piece made in black, white, and red. It depicts young people who are working on something. Therefore, it helps attract your target audience.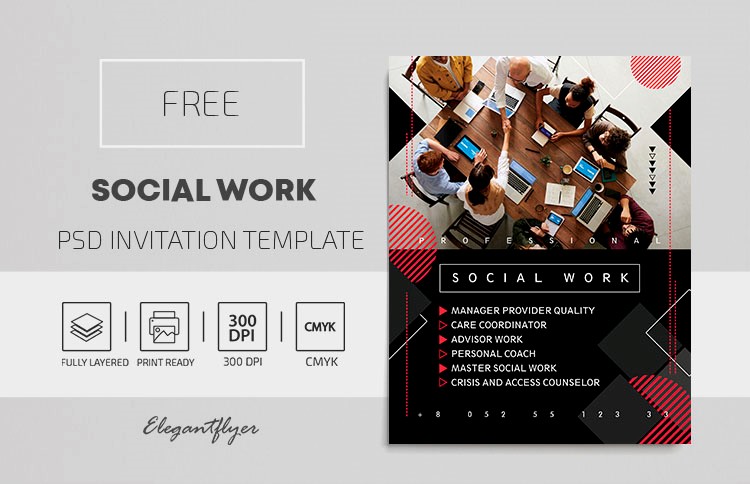 8. New Year Invitation Template
Merry Christmas and Happy New Year! Edit and download this designer New Year invitation template made in white and light blue. Everybody will check that out.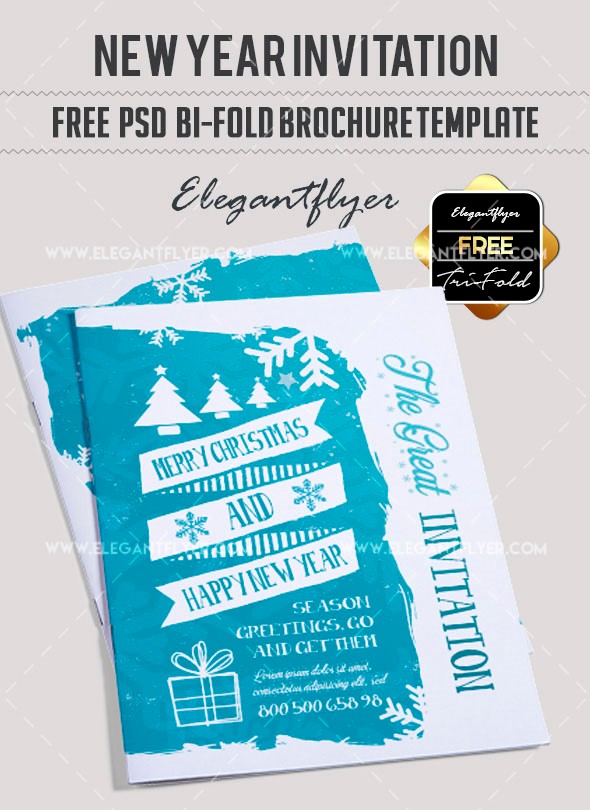 9. Invitation to Las Vegas Template
Promoting a Las Vegas party? Such a template will help you attract every potential customer. This design immediately conveys the atmosphere of the city of a thousand lights.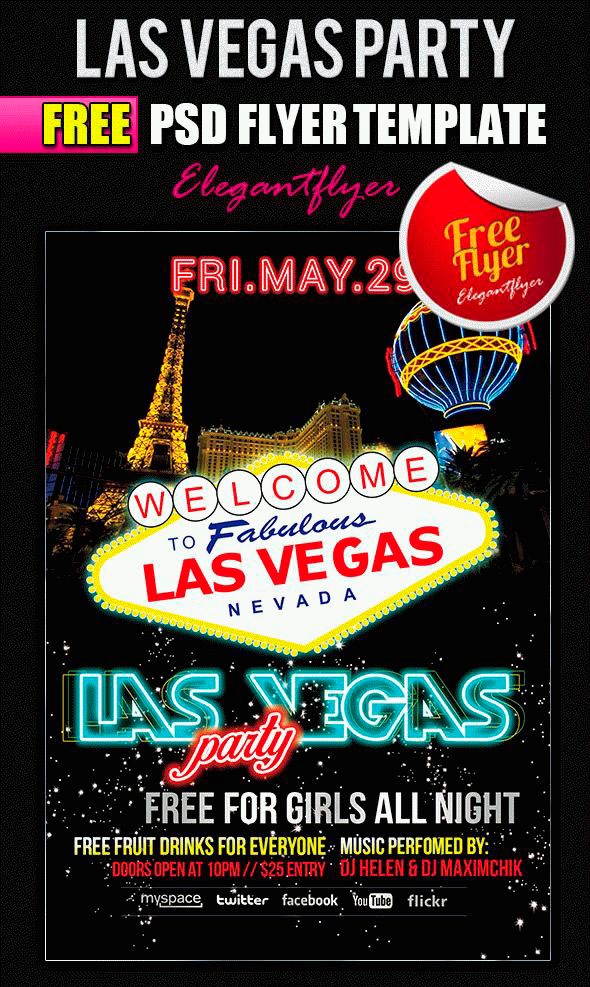 10. Halloween Invitation Template
Halloween is the most mysterious holiday of the fall. Trick or treat? Let's find out that with such an invitation template. Don't miss this eerie dark Halloween flyer with pumpkins.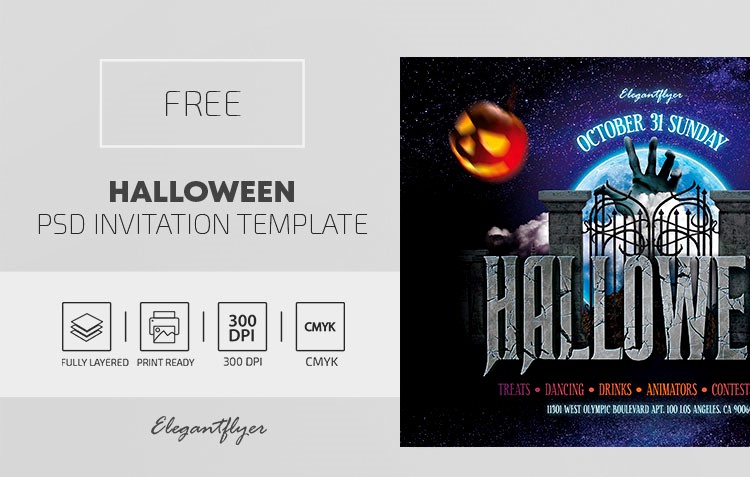 11. Club Night Invitation Template
If you are organizing a night club party, do not forget to download this invitation template. Such a design looks quite extraordinary and fashionable at the same time. It will boost the promotion of the event!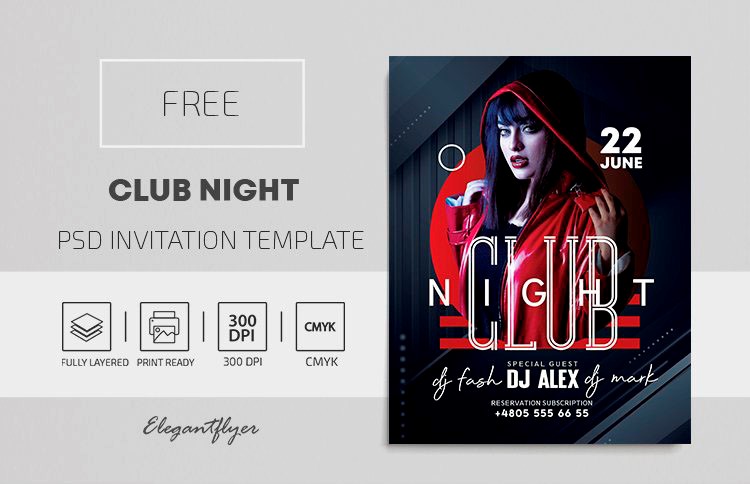 12. Birthday Party Invitation Template
It's a Birthday party time! Take a while to edit and download this fabulous birthday party template for Photoshop. This is perfect for a children's birthday party!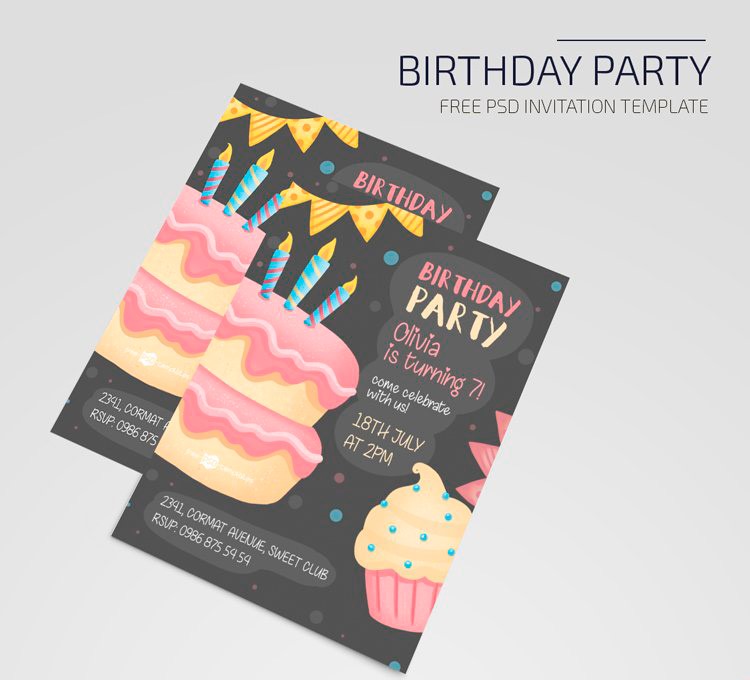 13. Thanksgiving Day Invitation Template
Gather your family and friends together using this tender Thanksgiving Day invitation template in PSD. Such a design makes people miss the atmosphere of the event.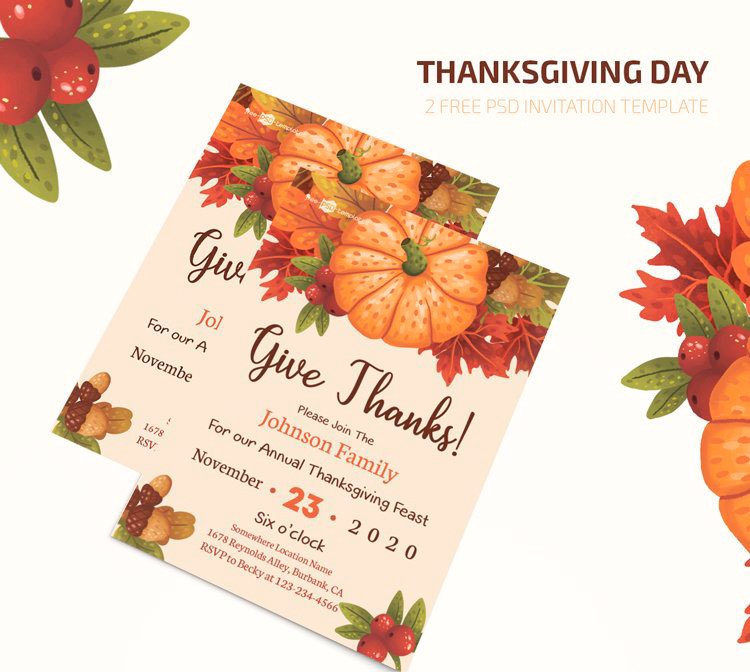 14. Wedding Invitation Template Tulips
Such a wedding invitation template set with tulips will come in handy for you. Invite your dear guests using this template in floral design.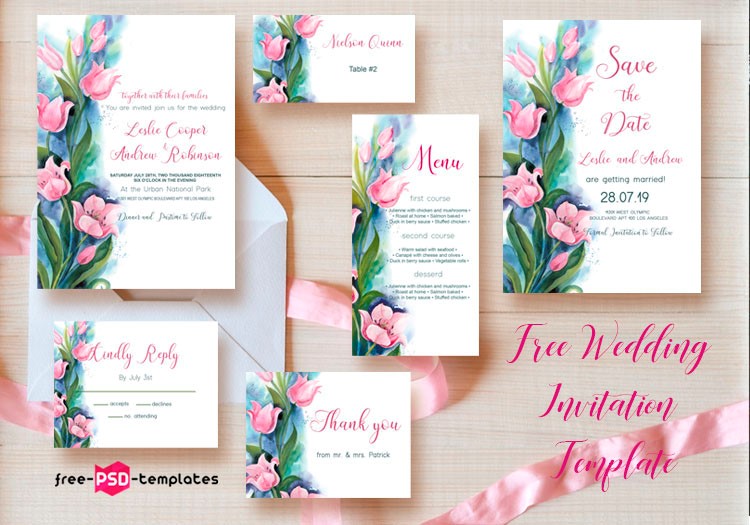 15. Bridal Shower Invitation Card Template
Celebrate the bride-to-be with such a luxurious designer invitation templates. Made in black and gold, it adds a chic and sparkle to the event. No one will remain indifferent.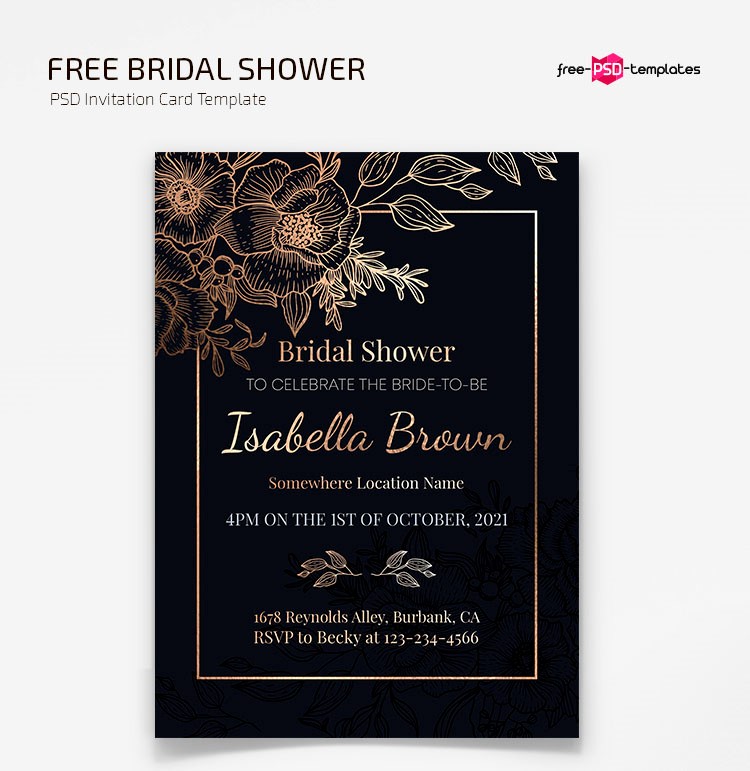 16. Christmas Party Invitation Card Template
Promote your Merry Christmas party with such a beautiful invitation design. Specify the date, time, and location of your party. And, of course, do not forget about the DJs because everybody loves music!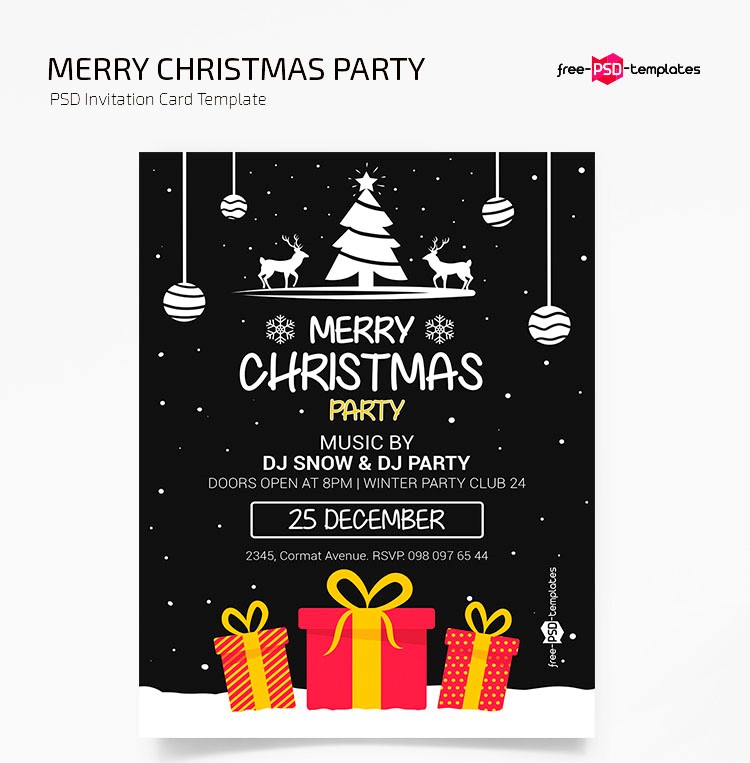 17. Invite Mini Session Template
Invite potential clients to your mini session with this fashionable but unobtrusive invitation template in PSD. Specify the details and make sure to put the examples of your photos.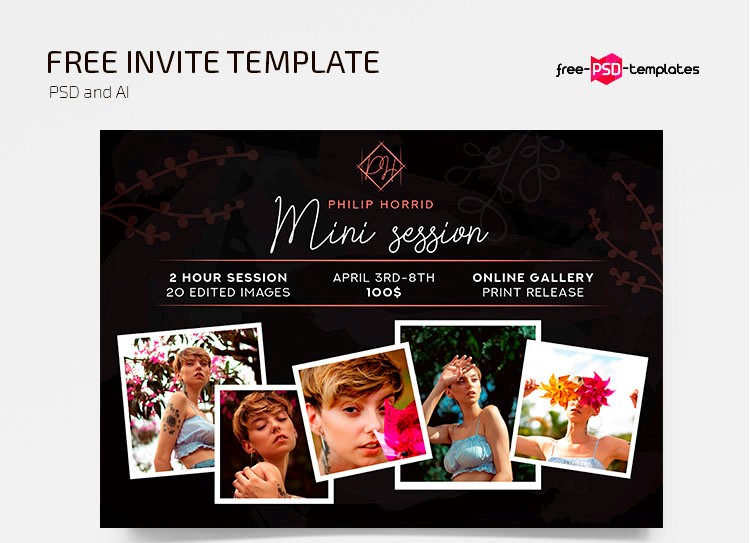 18. Ladies Night Invitation Flyer Template
Girls just want to have some fun. Planning a promotional campaign for your event, do not forget to create special invitations. This ladies' night invitation template will come in handy for you.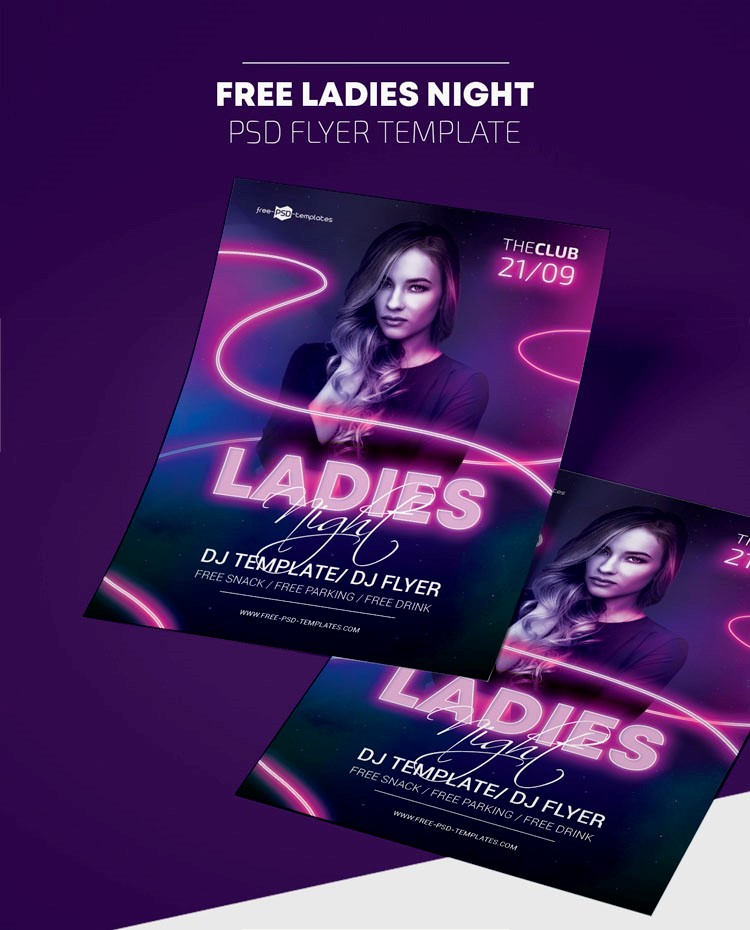 19. Graduation Invitation Template
Graduation is an extremely important event so it requires special designer invitations. Take your time to pay for a professional design – get this graduation invitation templates for free!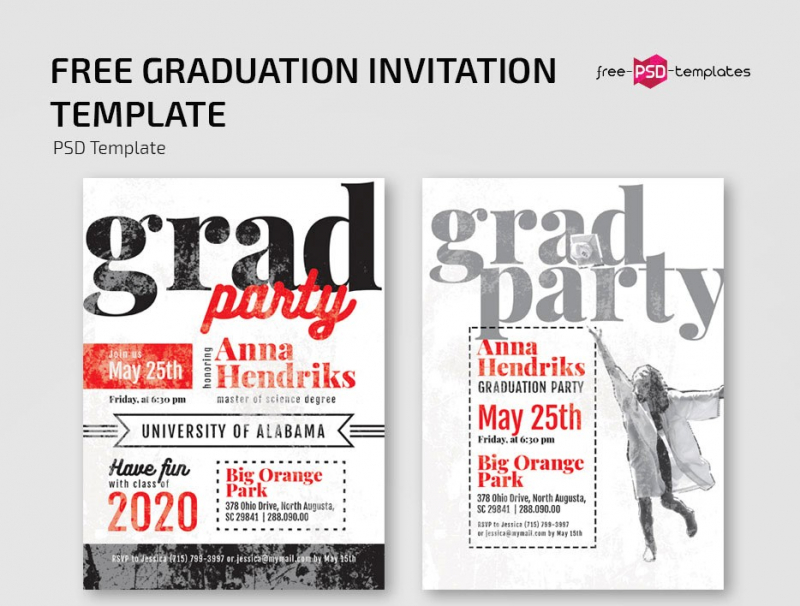 20. Birthday Party Invitation Card Template
Prepare for the kids' birthday party with such a colorful birthday party invitation card. Made mostly in purple, it also depicts a birthday cake which makes the template even more attractive. Invite all the little children you want to see at the party.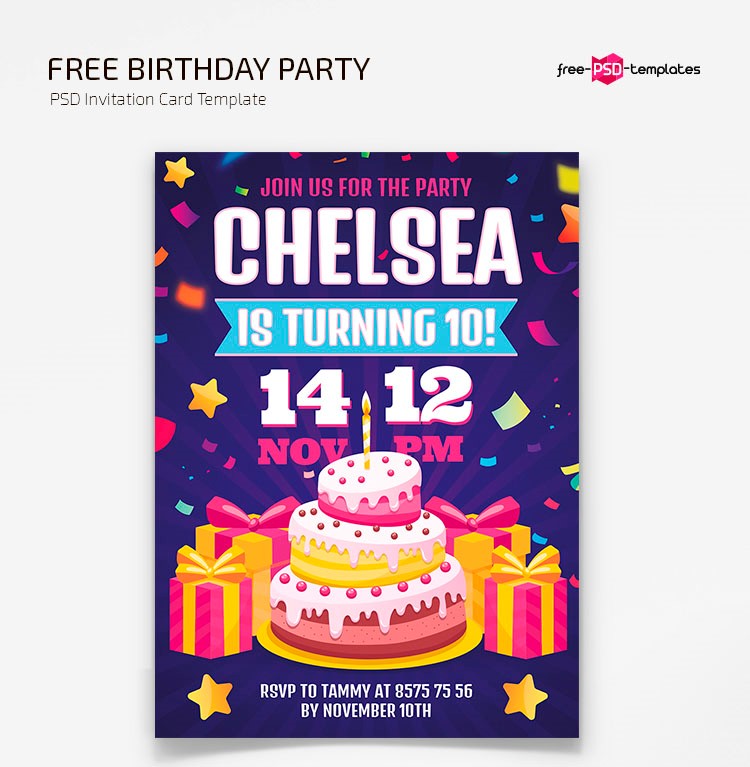 21. Invitation Postcard Template
If you are throwing a party, make sure to create an appropriate invitations design. Do not have enough time and money? Download this free invitation postcard template!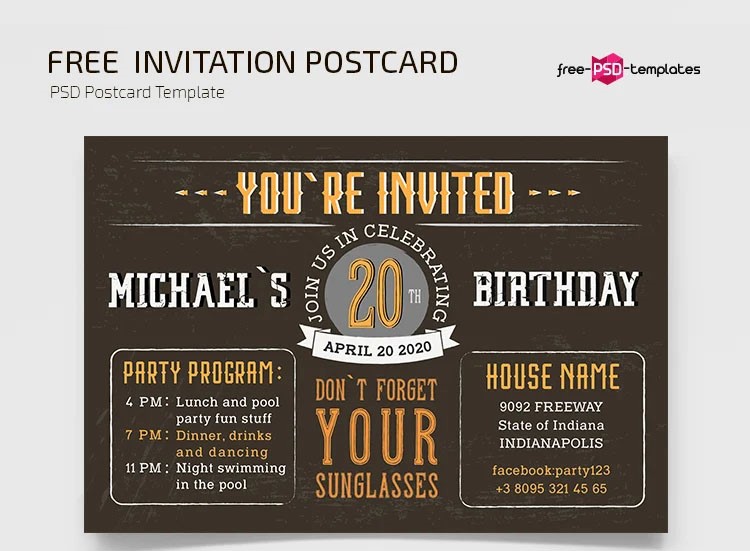 22. Birthday Invitation Template
Another Birthday invitation template that will help you gather all the dear guests. Edit and customize the template – and it is ready for use. Make sure to download and print the invitation or use its online version.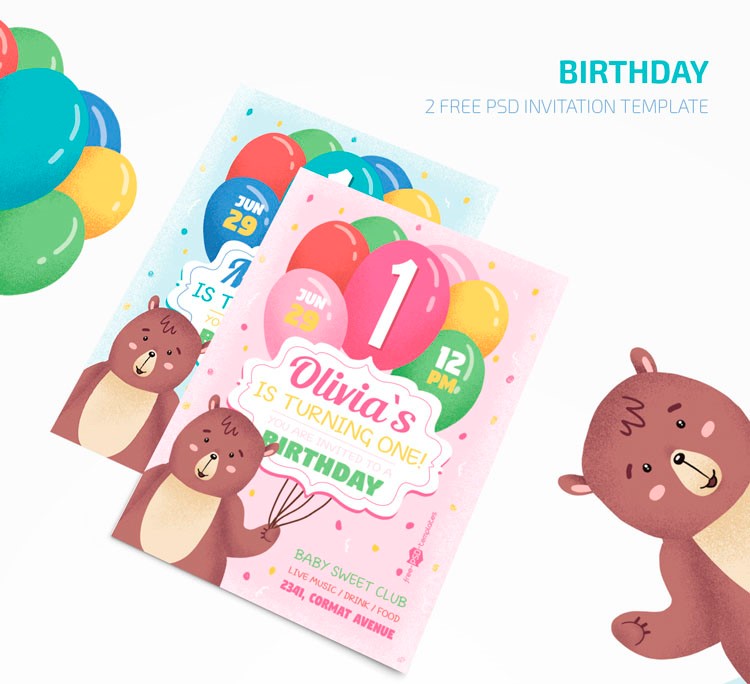 23. Wedding Invitation Template Sea
This gorgeous wedding invitation template sea set will definitely come in handy for event organizers. Save some money by using this 100% customizable free invitation template.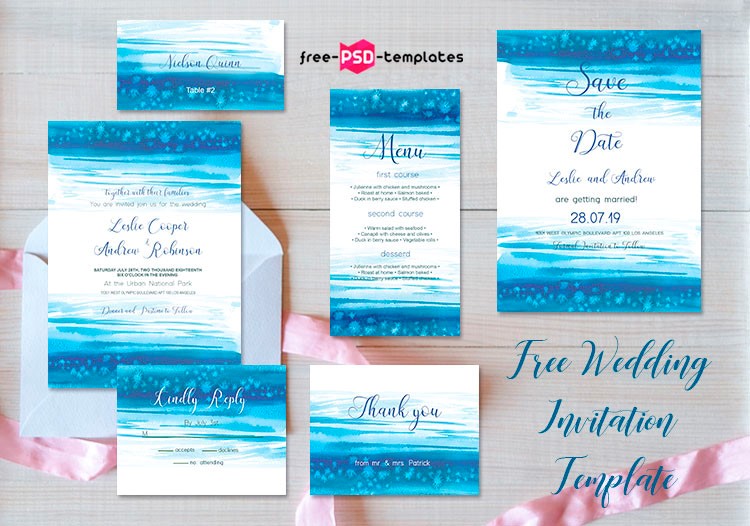 24. Floral Wedding Invitation Template
Just look at this spectacular wedding invitation in floral print. Made in white and lilac, it amazes with its tenderness and sophistication. Catch the opportunity to get this exciting designer template for free.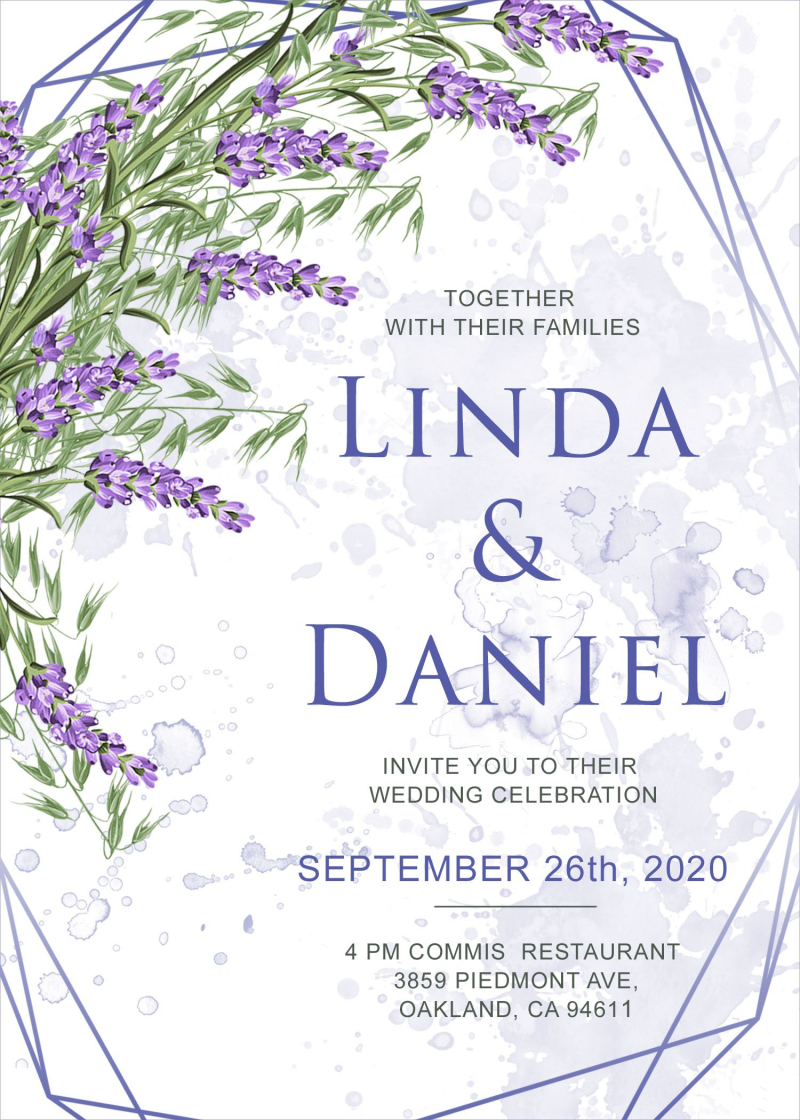 25. Children Birthday Invitation Template
What about a bright children's birthday invitation template? Believe me, such a design in a pleasant blue color will not leave anyone indifferent.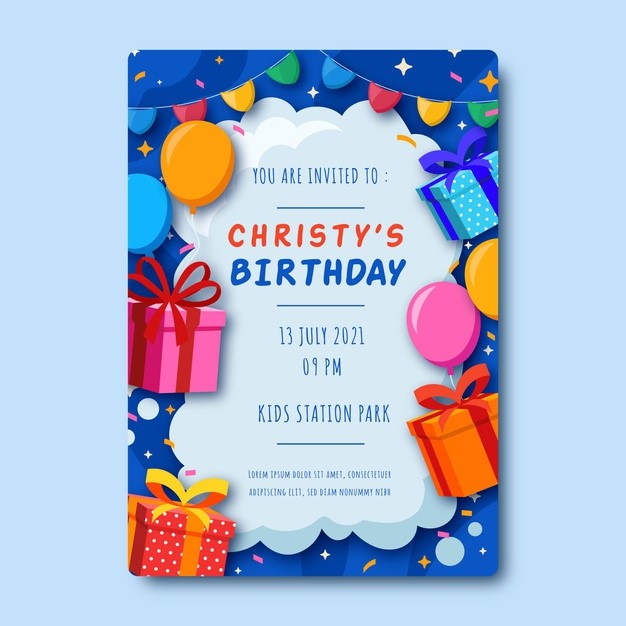 26. Elegant Birthday Invitation Template
Celebrating your birthday is much more enjoyable if you have these luxury invitation templates. Send them to your friends and get ready to receive gifts!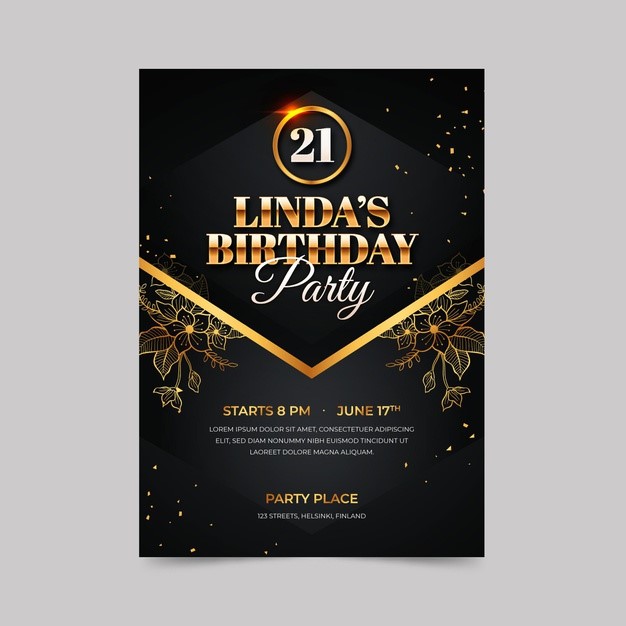 27. Minimalist Romantic Wedding Invitation Template
Love is in the air – convey this atmosphere using this gorgeous romantic invitation template. Made in muted colors, it will fit every wedding party.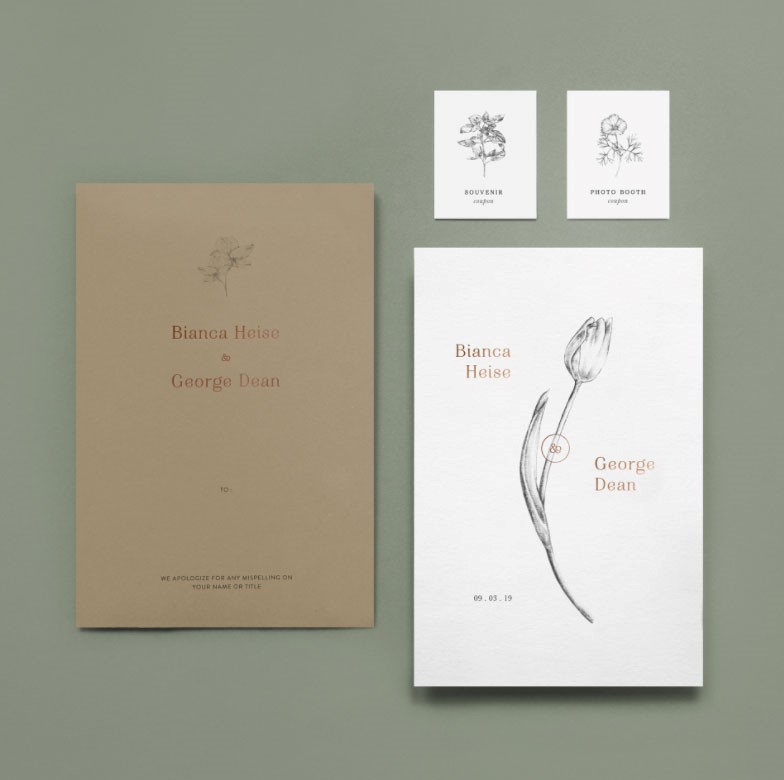 28. Back to School Party Invitation Template
Invite your friends to the back to school party using this colorful invitation flyer template. Such a design is reminiscent of the school atmosphere and the smell of fragrant buns in the cafeteria.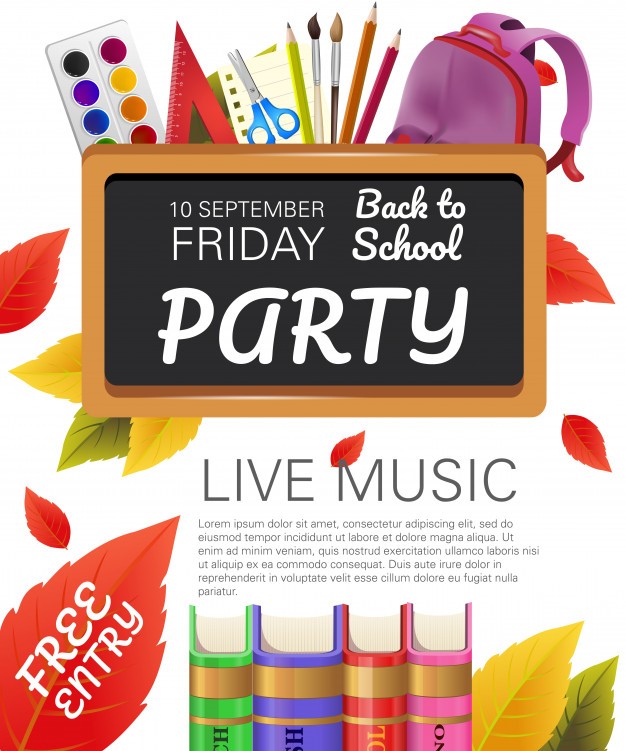 29. Wedding Invitation Template
Minimalistic wedding invitation template that will come in handy for everybody. Place the names of the bride and the groom and make sure to specify the details.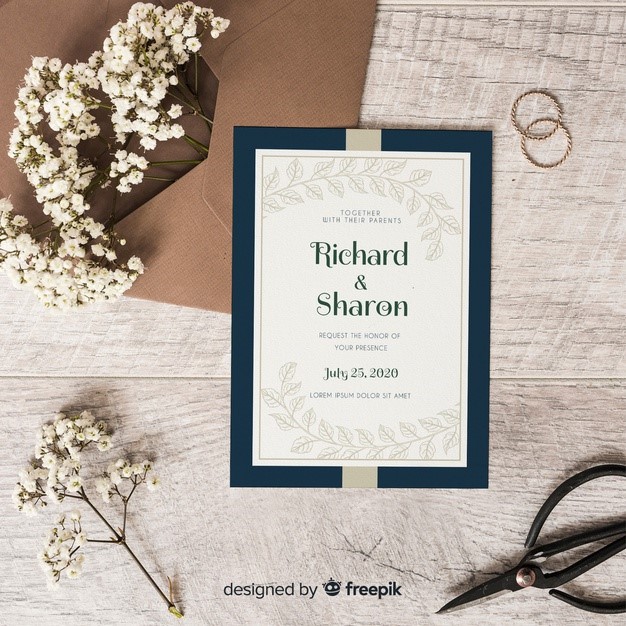 30. Anniversary Party Invitation Template
Celebrating an anniversary, do not forget to download this anniversary party invitation template. It has a universal design so it will come in handy for everybody.