Starting a blog can be intimidating at the least. There are several things to consider. Obviously, the functionality of the site needs is a top priority. The design of the website needs to be attractive to site visitors as well. The best personal blogs use resources from across the web, such as SEO services and web hosting. Here are some of the best resources on the market for building a perfect personal blog.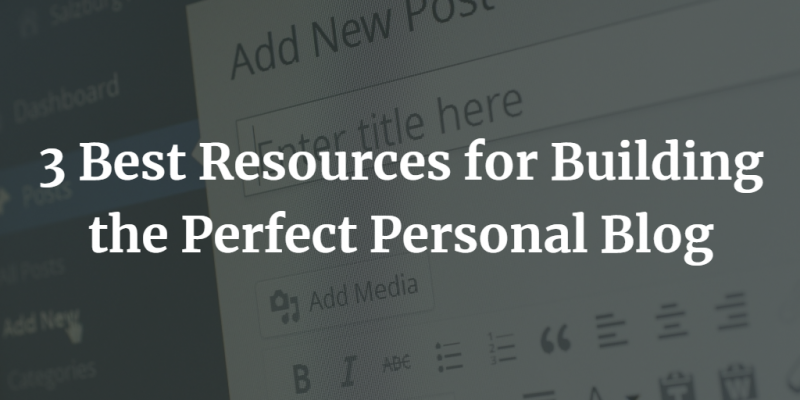 SEO Services
SEO, or Search Engine Optimization, is the process of optimizing the content on a website to make the site more attractive to search engines. In terms of text and HTML content, using headers as a formal way to identify sections of a web page is an excellent way to outline the content and make the page more likely to appear in search engines. Keywords (especially when used in headers) also can make the page attractive to search engines, granted you don't overstuff the content with keywords to the point of spamming.
SEO services are a common and useful way to ensure that the blog content will rank high. There's a lot of things to remember, not only headers and keywords but meta descriptions and various other aspects. The various moving components involved are why most web developers advise using an SEO service to write or edit blog content. These companies create tailored and optimized content guaranteed to get visitors.
Web Hosting
A web host provides the technologies and services that a website needs to be accessible on the web. These sites can operate thanks to servers owned by the web host.
The best web hosts will include a variety of features such as excellent support, fast servers, SSL, a large amount of disk space, and other features. Web hosting is necessary and something you want to consider early on, but it shouldn't be an easy or quick choice. There are many options to consider.
Finding the perfect web host can be hard, but it's essential to find the best features for your budget. There are free web hosts. However, these options often don't have lots of features, or they require extra payment for the desirable features. Smaller blogs may be able to get away with these free hosting services, but if you want to step up your blog to a professional level, you will want to get the best features. Look around and check out some of the best web hosting companies, such as Mangomatter Media's UK list for the best UK web hosting.
Graphic Design Tools
The blog can be as functional as possible, but the chances are that people won't love it unless it's visually appealing. Various graphic design tools are available across the web to create visuals and graphics for blogs. It's even possible to hire freelance graphic designers from around the world and ask them to design for your blog. Other features such as infographics are useful in conveying information on your blog site.
Graphic design doesn't end at pictures and infographics. PowerPoints and Keynote presentations can also make impactful presentations, and you can find presentation designers who work for a very reasonable price. Make sure to shop around and look at all options; different designers will have different styles.
Final Thoughts
The sheer number of resources that aspiring bloggers have at their fingertips is mind-boggling. Although there are many more resources than just the three on this list, these three have proven to not only make blogs look better but increase web traffic. Blogs that use these resources will be not only attractive but functional. Use these resources for your blog, and you'll soon find your blog thriving and successful!