Last month we announced the new Templates.com tradition – a monthly wrap-up of the best templates. So, in line with this new tradition I'm going to show you the best templates and themes of December 2015.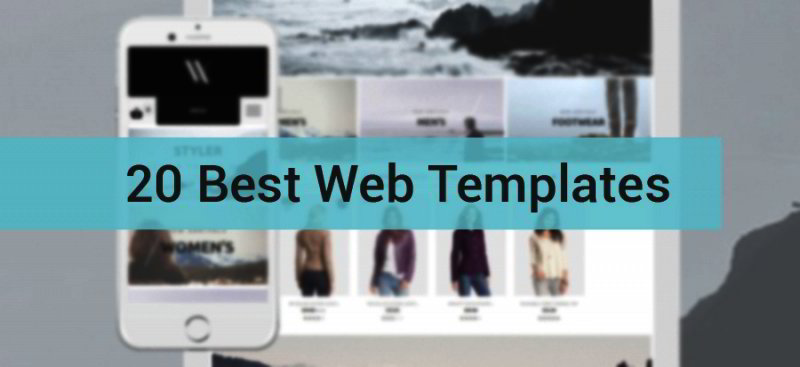 December brought us quite a number of awesome web designs, these most recent templates are more than a half of today's showcase. Naturally, Monstroid is one of the best sellers this month. Have you seen the theme? It's got so many features I sometimes wonder why would anyone need anything else at all.
Since I mentioned the WP theme on steroids, let's continue about WordPress – about half of this collection are WordPress themes for various businesses. This is probably no surprize, WordPress is the most used CMS after all. Naturally WordPress theme designs are the most popular ones. You'll also find a couple of themes for other CMSes here, mostly Moto CMS3, people just love Moto CMS3 for the unique interface, incredible user-friendliness and visually impressive design. Besides, there's a couple of website templates.
Surprisingly eCommerce templates made a small appearance this month, there's only two PrestaShop themes and two Magentas.
The thematic categories these premium web templates cover are quite diverse, though the majority is business-related. Well, without further ado, here they are – the 20 best premium website templates of December 2015.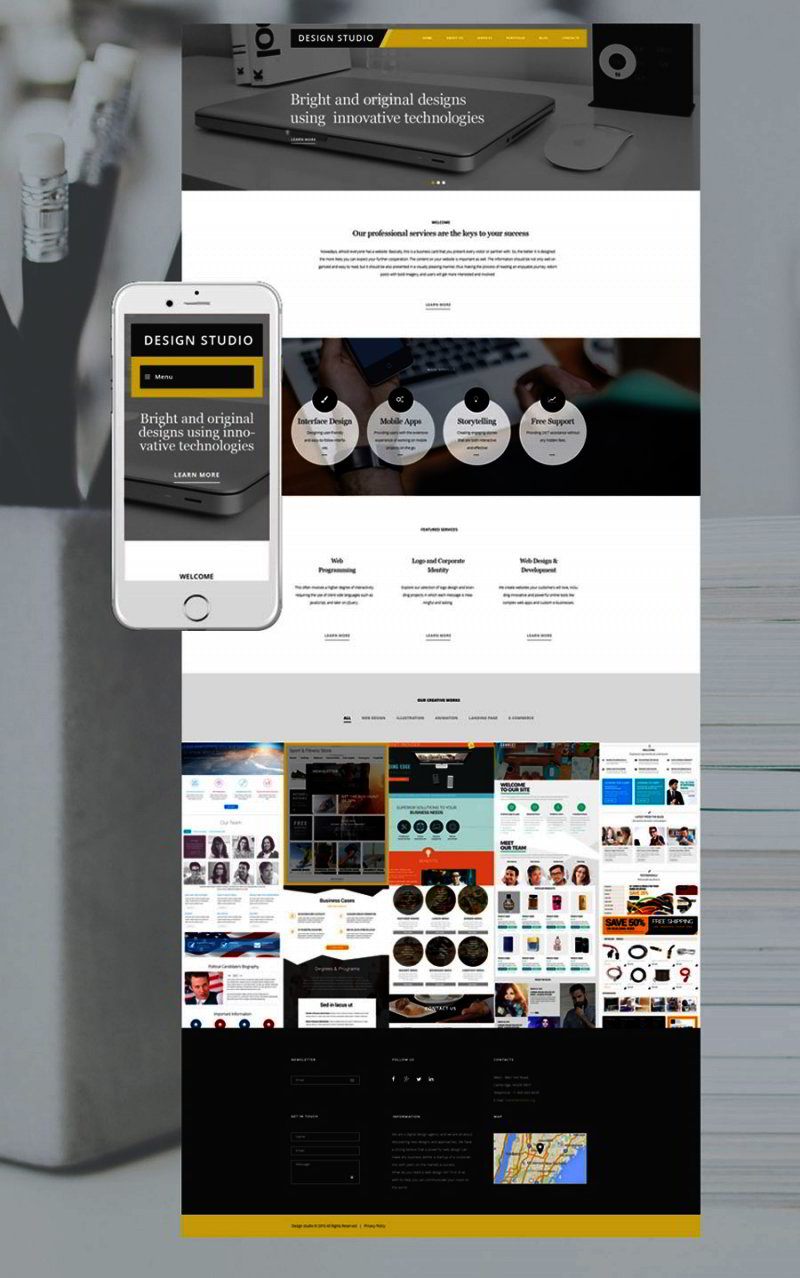 Powered by the unique Cherry framework 4.0 this responsive WordPress portfolio theme is very easy to customize. The other features of the theme include parallax scrolling effect, newsletter subscription form, drop-down menu, audio and video integration and even a built-in Google map.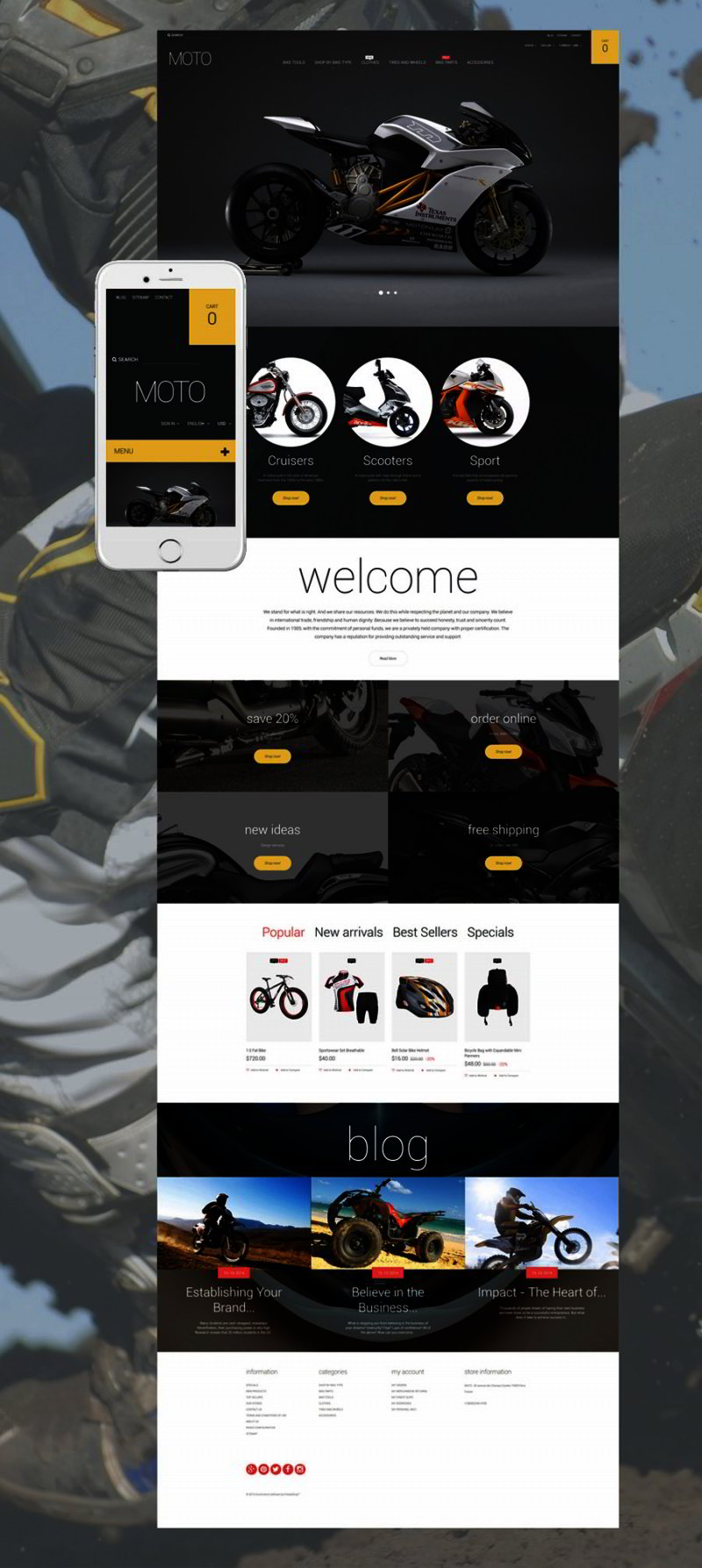 This is one of our premium themes for PrestaShop 1.6, designed for a bikes online store. As any other premium PrestaShop theme this one has a number of features such as Back To Top Button, Categories Accordion, Commenting System, number of web forms and much more.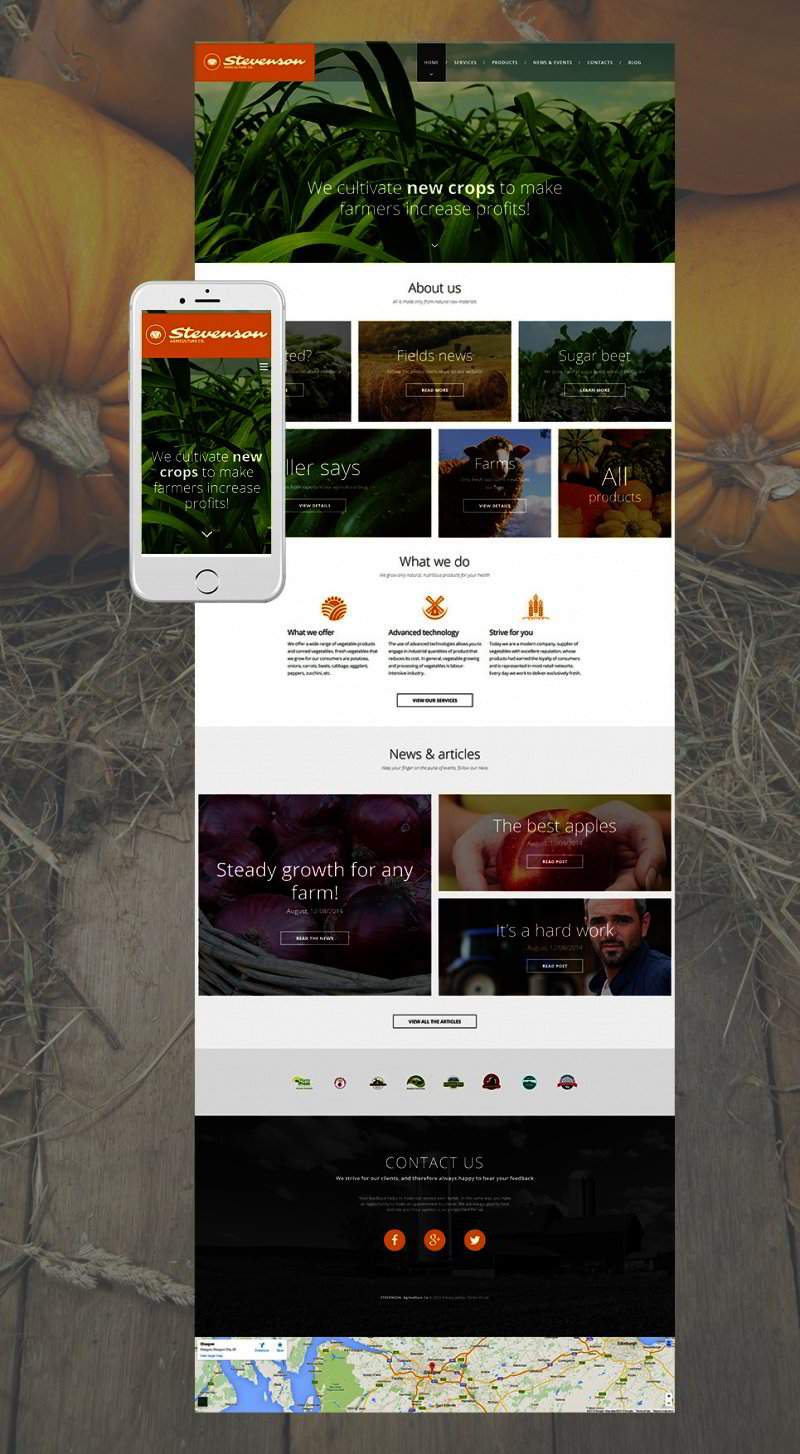 This agriculture Moto CMS3 theme has every feature you would look for in an agriculture business website plus there's a drag-and-drop editor for easy customization.
This minimal WordPress theme is created for a communications company online presence. The theme has very trendy color scheme, impressive full-width photo backgrounds and parallax scrolling effects among other awesome features.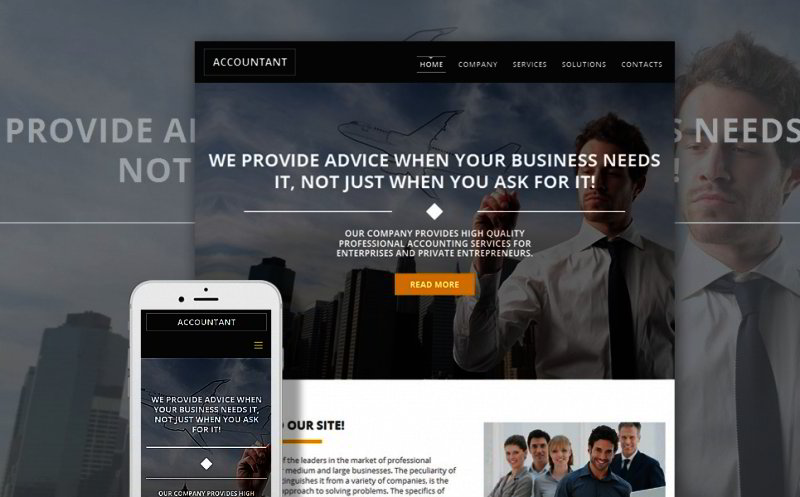 This Moto CMS3 templates for accounting business is full of amazing features, among them are parallax and lazy load effects, a choice of gallery scripts, contact form and video integration.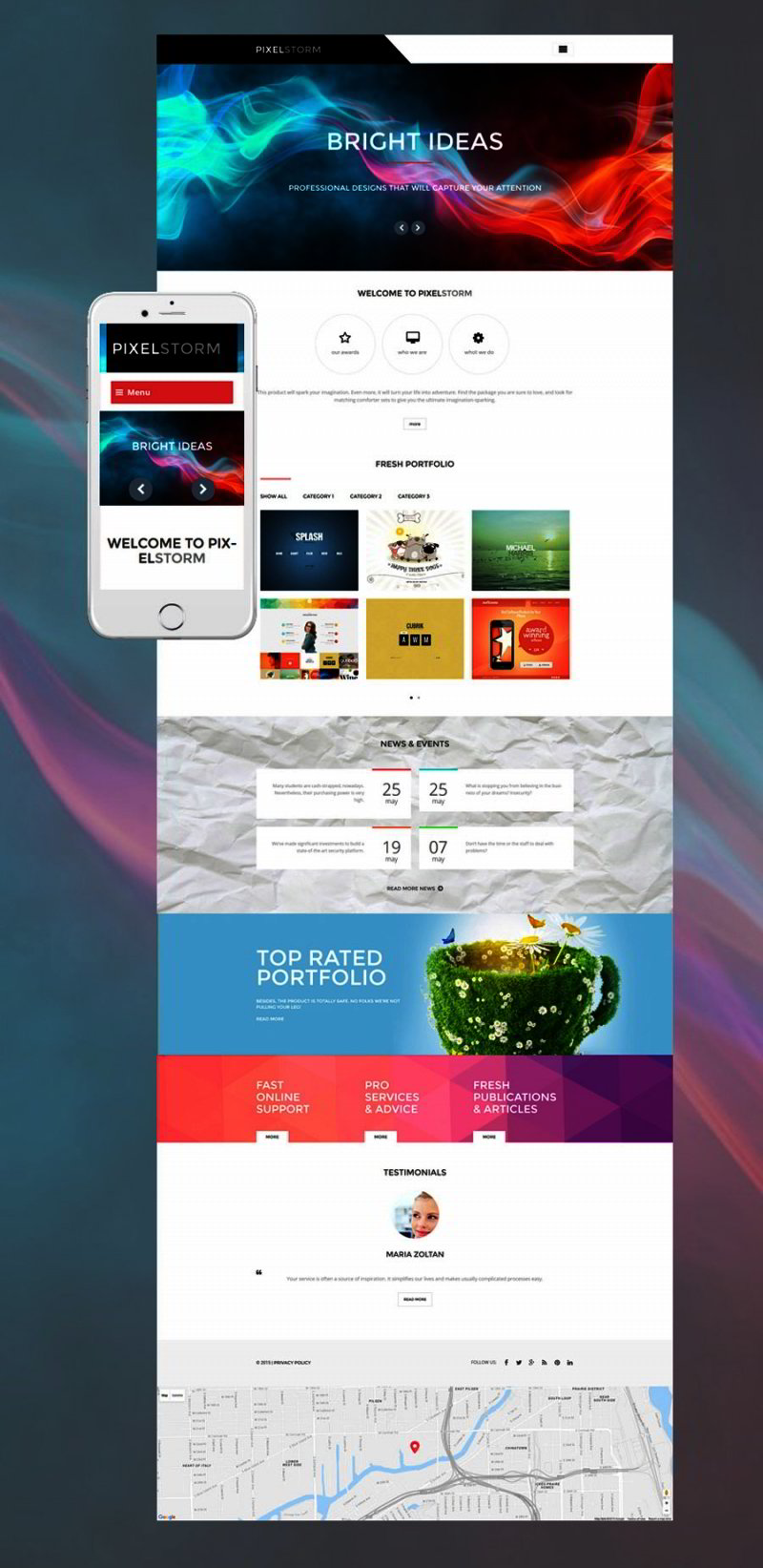 This stylish modern WP theme is perfect for a web design agency, don't you think? The design here is flawlessly minimalistic, yet colorful and functional. The usual WordPress features are enhanced with parallax animated effects and other custom features, check out the live demo to see it all closely.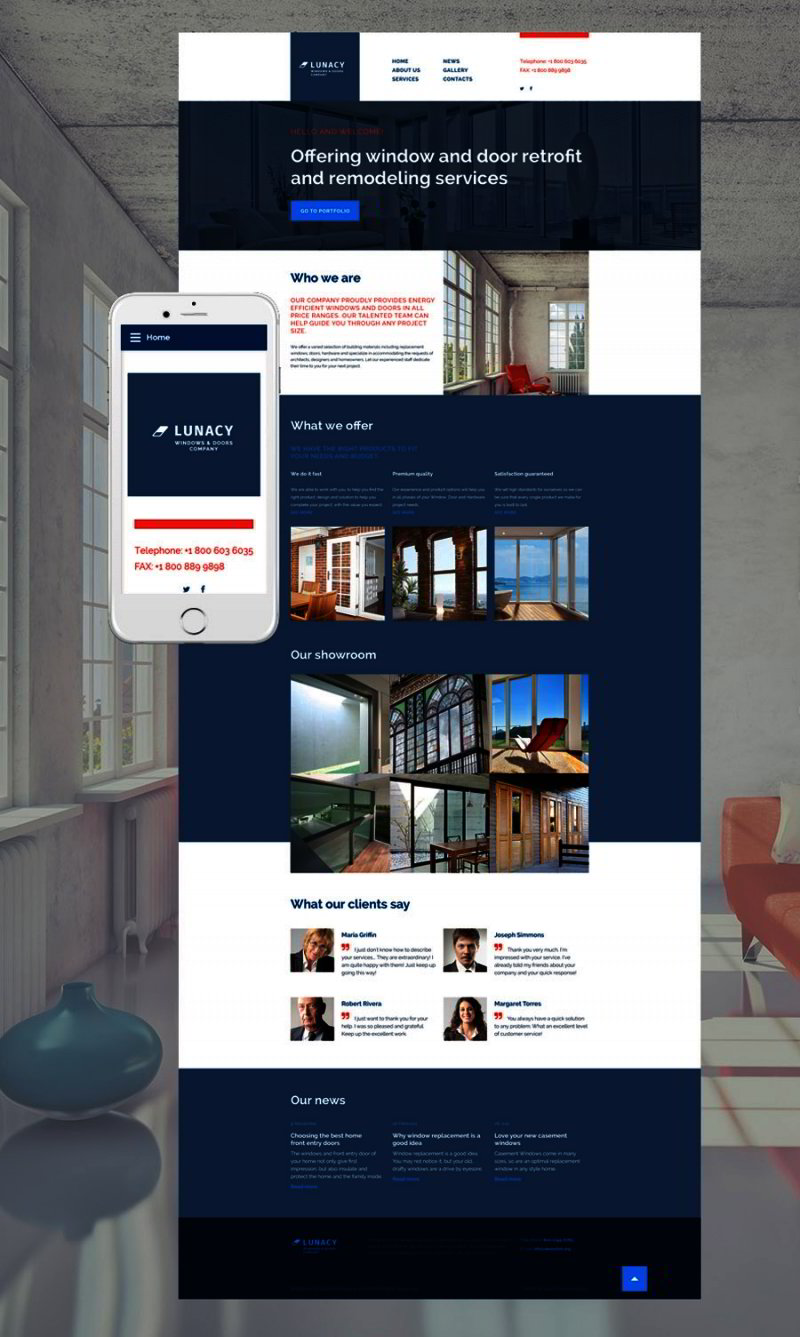 This responsive website template is meant for a windows and doors provider but can easily modified to fit any other online business, especially if it's related to interiors, furniture and home décor.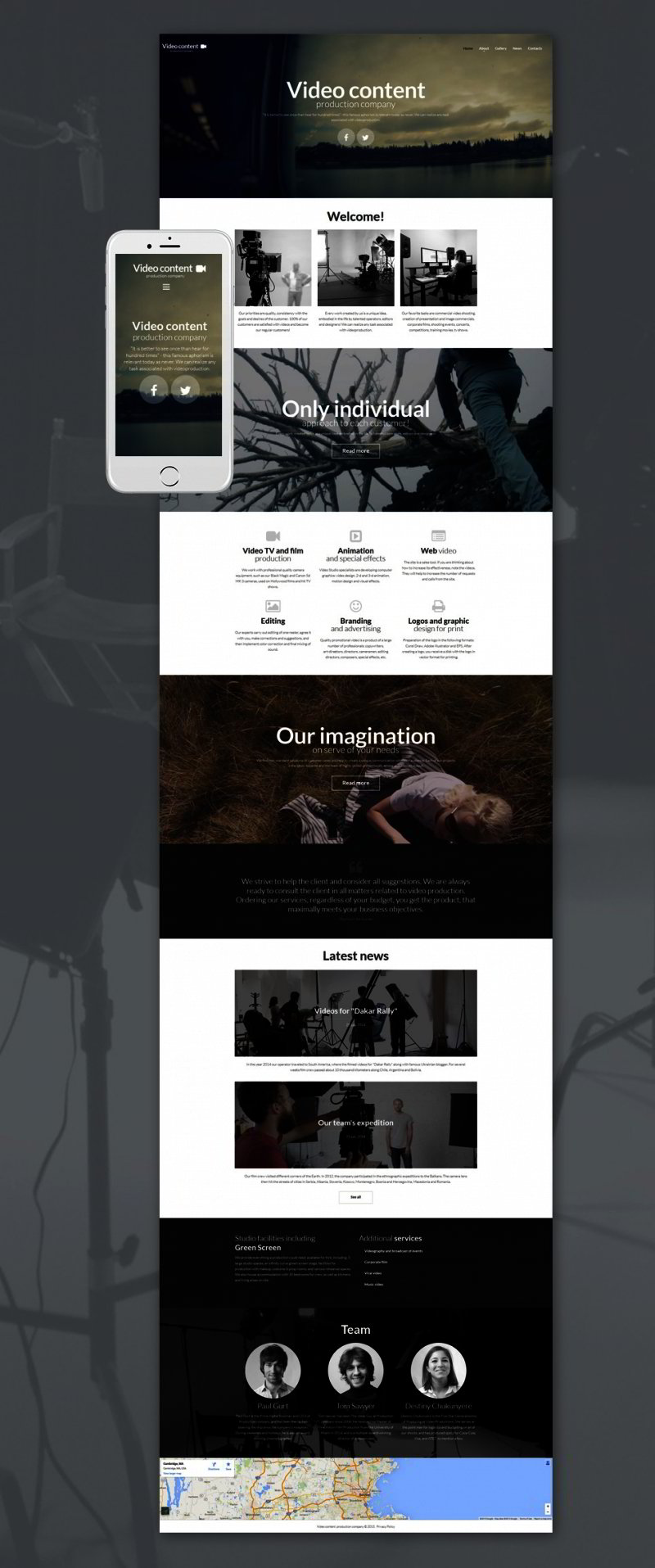 As a proper video website should this responsive Moto CMS3 theme features video integration, you'll also be impressed with the full-screen photo backgrounds, moderns and minimalistic design details and the amazing Moto CMS3 features.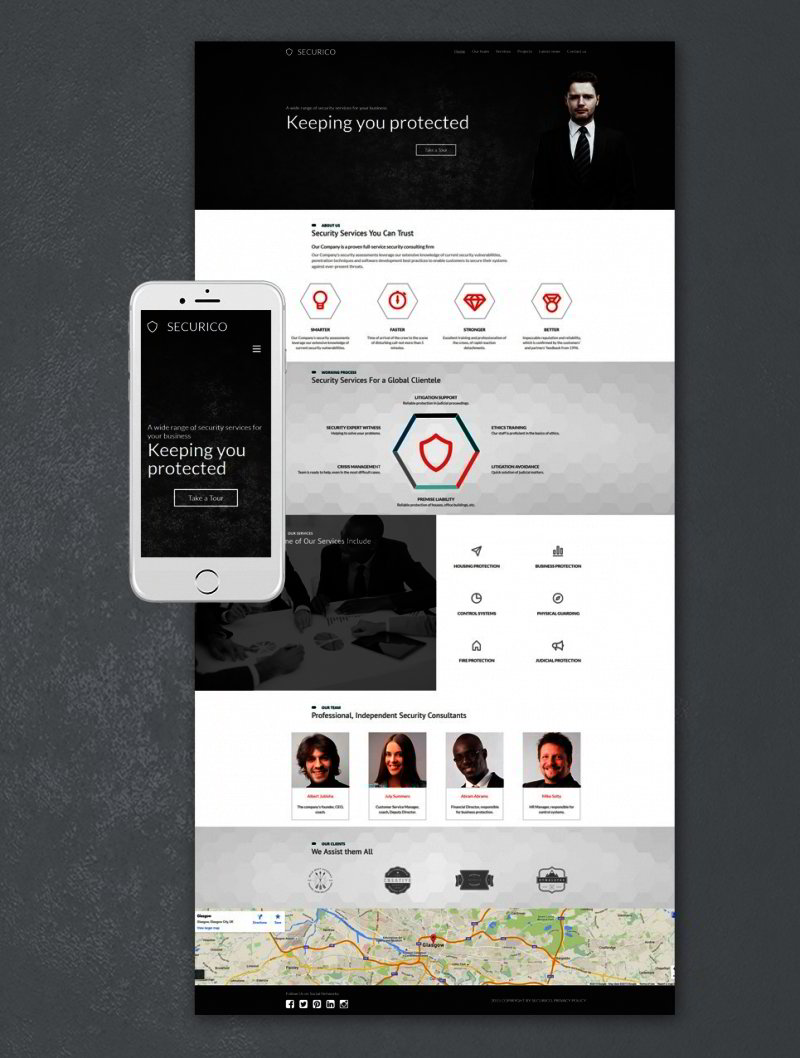 This Moto CMS3 design is done in the minimalistic trend with the help of custom design elements. The color scheme is simple and so very stylish, and most importantly – very fitting for a security agency of any sort.
Impressive hero header, stylish ghost buttons, unconventional typography choice, these features make this WordPress theme a breath of fresh air in business web design. Make sure to look into the live demo!

Monstroid probably does not need an introduction, it is the best multipurpose theme for WordPress and that's all you've got to know! Just view the live demo if you haven't yet.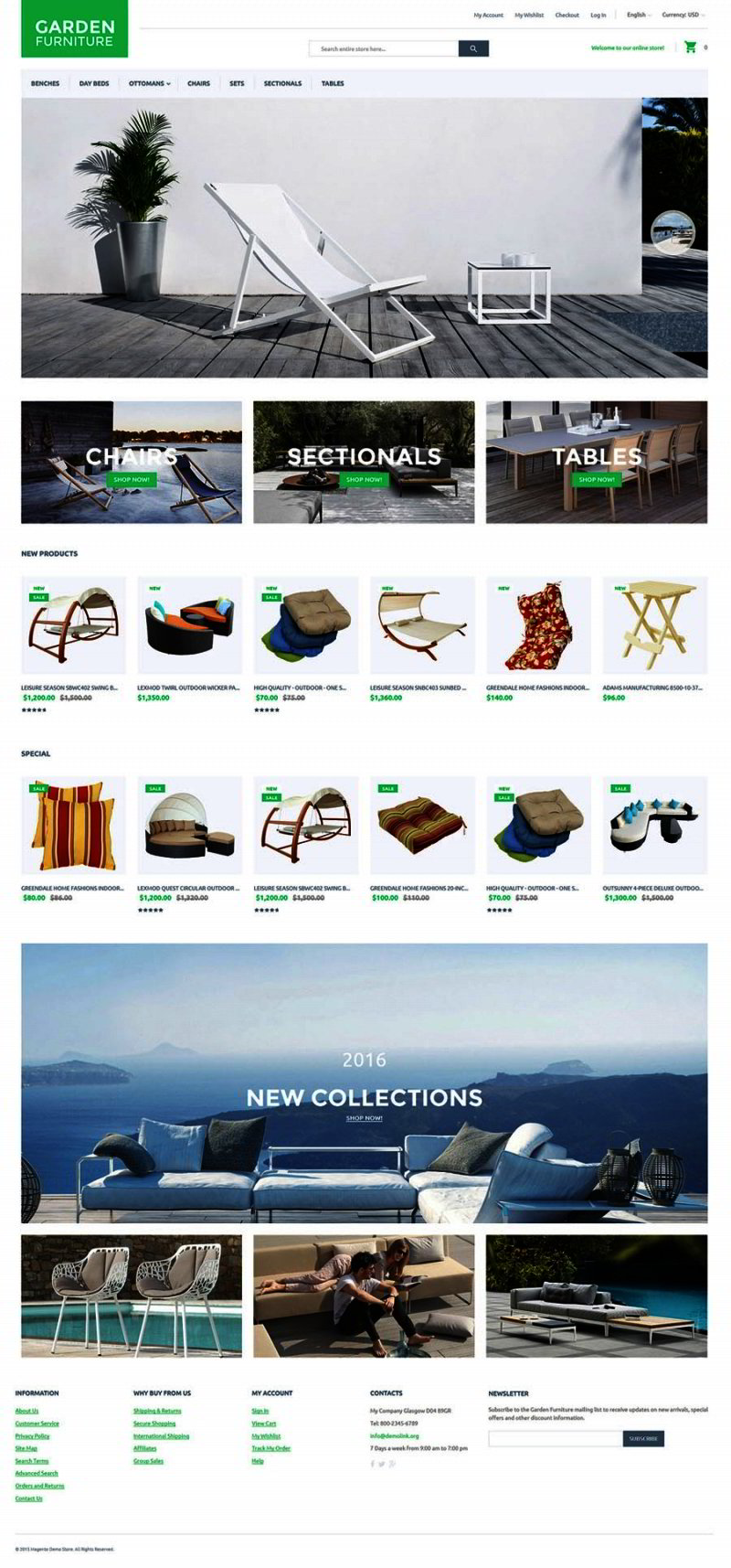 Full of light and air this responsive Magento theme is perfect for an exterior design online store. The use of color and white space is very precise and to the point here, the features are useful and the shopping cart is just perfect.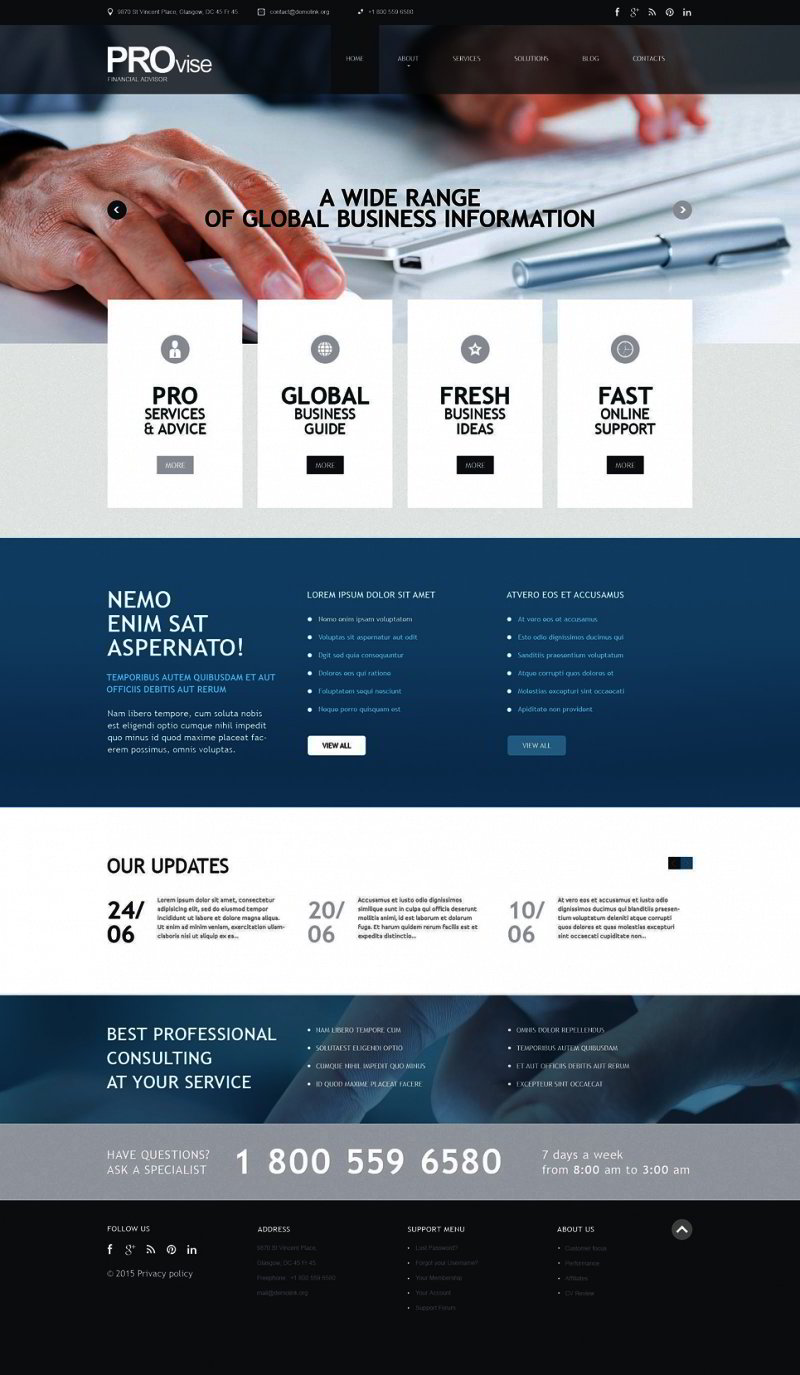 Blue is the traditional color for business online projects, this financial consultancy WordPress layout features the most stylish and contemporary shade of blue, brining the business design to a completely new level. No business will look outdated and dull with a website designed like this.

Another WordPress consulting theme and another approach to business website design. This responsive WP layout is a perfect example of the effective use of color in web design.

This shipping company website template is not your typical and dull design with a bus schedule or some such thing. This is a modern tile-like layout for a contemporary business providing transportation services for the contemporary people.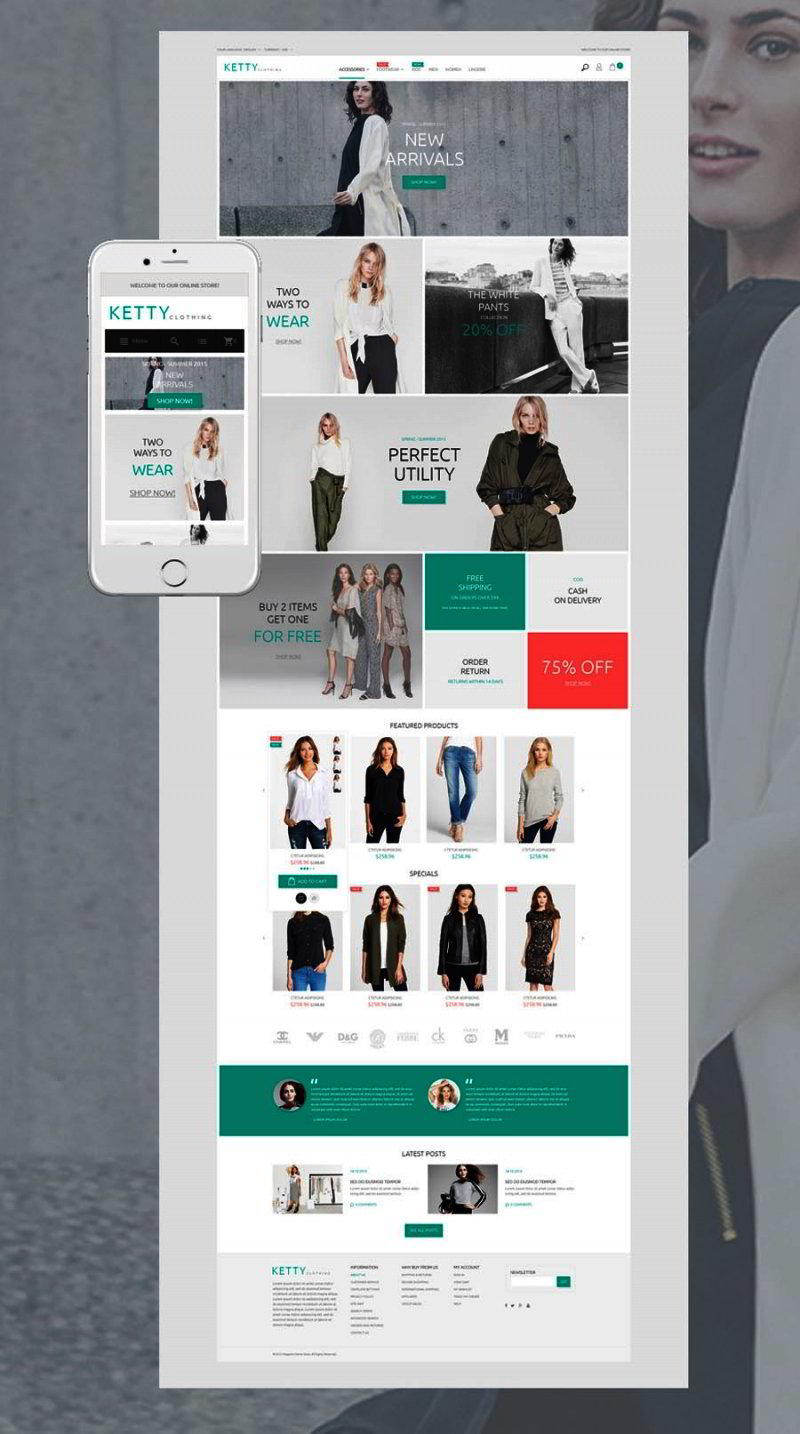 Magento is the best shopping cart solution for a fashion online store and this responsive Magento design proves that statement just fine. Check out the live demo you'll see the awesome showcase for the products, all the web forms and every other stunning feature this theme comes with.

This WordPress theme is a fully responsive WP design for a consulting agency that features simple layout, minimalistic approach to design and perfect use of bold colors and typography.
Red is a rare color in web design, it's just not easy to use properly. This transportation business WordPress theme shows that red can be the perfect color for a business website!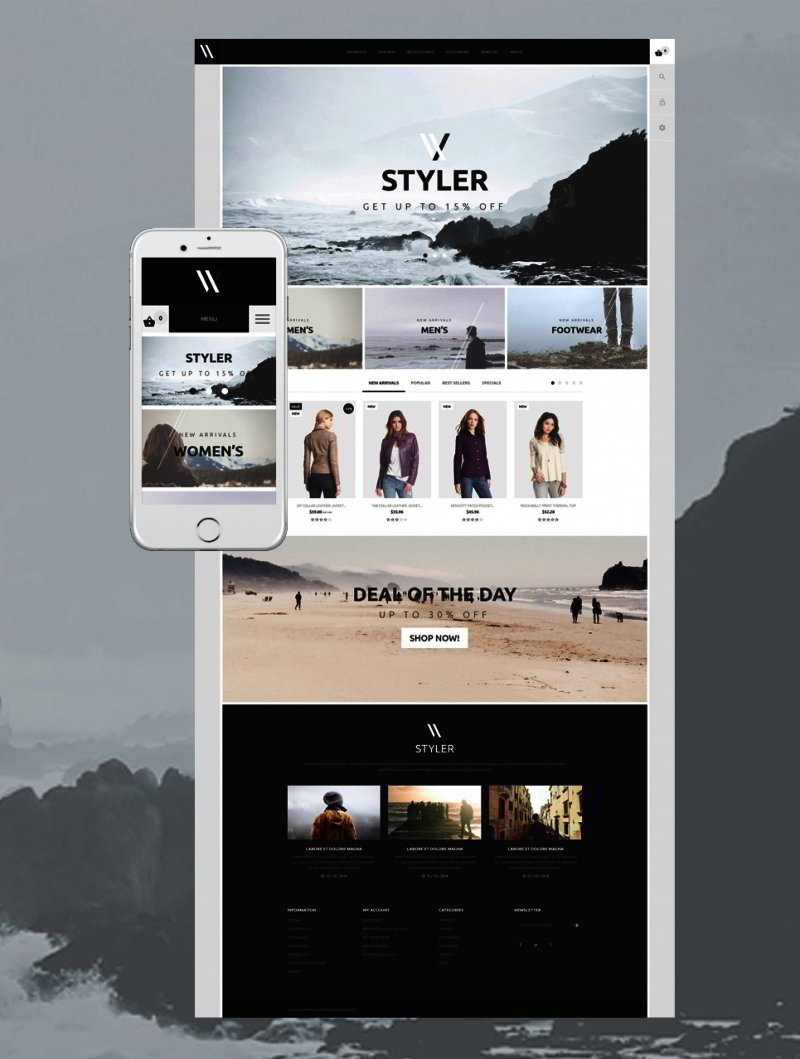 A fashion online store has to exceptionally stylish, modern and user-friendly, this responsive PrestaShop theme has subdued color scheme so fashionable these days, atmospheric photo backgrounds, the perfect showcase for the products and exceptional functionality of PrestaShop.