SITE123 has designs and industry-specific tools that cover all niche markets you can imagine, such as: Small business owners, Photographers, Musicians, Designers, Restaurants, Events, Handyman, Technology and more…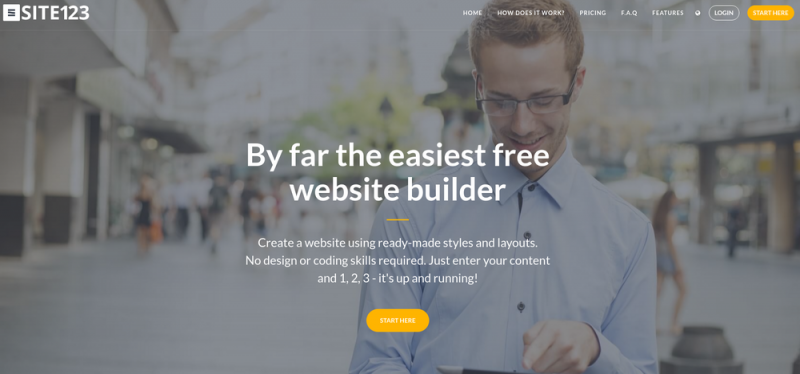 SITE123 is by far the easiest website builder comparing to its competitors. Are you asking why? With SITE123 your entire website can be built automatically. All you do is just go to their website, sign up, choose a business category and the systems builds it instantly for you. Then it's just a matter of tweaking the website to your taste.
That said, there is no need to code, design or make layout for anything. That can save quite some time even for the most experienced programmers and designers. If you fit into this category, you know how much time this will save you in having to program a website with full functionalities and/or designing layouts, banners, promo images, and all different parts of a website. And if you are a regular person building a website for your business or project, this will save you tons of time studying all the above skills just to be able to put a website together.
In this sense, SITE123 couldn't be easier. Even when comparing to its competitors, like mentioned above, it is the simplest go-to website builder if you like your projects completed fast but with high quality.
Getting To The Next Level
There are many website builders out there and you know (probably from your own experience) that most of them do not deliver what they promise. When using those sites, we usually have lots of issues. Starting from those lame templates offered, that look like the internet has just started yesterday. Really? Who wants a website that looks like a Microsoft Word document template?!
Not to mention all the trouble faced when trying to add widgets, plugins and more – it seems that many of those website builders actually build nothing but just allow you to put together a Frankenstein site by gluing a bunch of plugins together. And when you do that, you can only hope for the best. That is, hoping for your creature not to haunt the visitors.
Besides that, when using those creepy website builders, we have almost no support whatsoever when facing a challenging situation. You get there, try to add a plugin or widget, then some message pops up saying something like "It was not possible to add the plugin" or "XYZ error" or even "Contact the administrator to solve the issue". And that's where the problem comes in: there is no user support on those websites. And when they do, it's the slowest ever, making the user have to wait for days on end just hoping for a solution. Many times, there is no solution but a "Could you please explain us better what is happening?" type of response…
Enough! No More Of This…
Every single person that has faced that kind of website builder and all the issues it brings to the forefront is sick of going through this again and again just to build a website. And that's where SITE123 comes in. They also got sick of this long ago and with their incredible programming skills, they designed their website builder for all kinds of users to be able to use.
As their name says, building a website should be easy as 1, 2, 3… and boom – it's done! And they actually accomplish what is promised. A user can easily build a website in a matter of minutes, by just choosing a business type, editing preferences and adding content.
How To Get Going
The basic set up is very straightforward. As mentioned above, after you sign up and insert your basic information, the system generates a template website for you instantaneously. Then, you can start by choosing the type of website you would like to have: one page or multipage websites. Go ahead and try the layouts available to organize where you want your menu, content, logo, etc. You can also choose the color schemes and fonts that will be used on your website in order to match you brand identity.
On top of that, you just need to bring your content into play. Make sure you previously render a logo, select pictures of your business, have in hands important information, and sketch some basic copywriting for the pages, i.e. about pages, product pages, promo pages and any other compelling page that you would like to add to your website.
You can also work on little touches that will make a big difference in the end. There are lots of important parts on a website that we don't remember right away when we think about building a website. In this sense, some great features are available, like putting together a nice footer, adding a newsletter subscription box to your page and inserting social media icons so your visitors can go straight to your social media pages and/or share it with their acquaintances.
After that, there are many SEO features to set up. If you are new to the term, SEO stands for Search Engine Optimization. In other words, it's the science of making your website rank better in search engines like Google, Yahoo and Bing. Awesome, isn't it? Building a website and already placing it on top of searches…
On the website builder's menu, there is an SEO option under the Settings. There you can insert important pieces of information in terms of SEO, including title meta tags, description meta tags and keyword meta tags. These go into the website's code automatically for search engines crawl it.
SEO features are available for each specific page as well. Also on the website builder, it is possible to manage each of the pages' SEO options by going to each module and opening the settings. Besides that, the rest of the SEO is already done by SITE123 and incorporated into any website built, including yours. That is meant to facilitate user's lives and place websites higher on search rankings.
Extras
And if you have any trouble whatsoever while building your website on SITE123, you have real-time support 24/7 to solve any issues you may face. There is a chat box on the bottom right side of the screen where you can easily shout out for help and one of their representatives will come immediately for aid. Now, that's a real company providing real customer service!
They are also adding new tools and designs on a regular basis. That is part of their evolution, the internet evolution and, in last analysis, your website/company's evolution as well. Many functionalities come into the market every day and SITE123 does its best to keep you up-to-date on what is coming out. And, of course, helping you implement any new awesome apps into your website.
For example, recently SITE123 launched a new APP MARKET. It means that they are the best in their field and choose not to provide certain tools to their customers as part of the core services, because they believe that there are companies out there already providing it. SITE123's app market enables their customers to enjoy the best of all worlds by integrating the easiest free website builder with high-quality apps, and the installation is in a click.
13 Key Things To Know Before You Use SITE123.com:
1. The interface is intuitive and useful (No drag and drop!) Finally someone gives you a really simple system to build your site. With the feeling that someone is guiding you and telling you what to do next
2. FANTASTIC SEO results – SITE123 Built with an amazing code that delivers a great SEO results for any website.
3. Responsive Web Design – with SITE123 your website look good on all devices (desktops, tablets, and phones).
4. Ready-made Styles and Layouts – You can edit your website's layout, setting up different kinds of menus… the most important is that you can change your website's layout as many time as you want and your site still have a professional look and feel.
5. 56 different languages to build your website – Its amazing! You can build your website In almost any language you want.
6. Customer Support & Knowledgebase – Provides 24/7 support customer service with an amazing live chat + https://support.site123.com/
7. App Market – SITE123 has certain tools that they choose to not provide to their customers as part of the core services, because they believe that there are companies out there that already providing it and they are the best in their field. SITE123 App market enable their customers to enjoy the best of all worlds by integrating the easiest free website builder with a high-quality App, and install is in a click: https://appmarket.site123.com/manager/app-market/
8. Website Design Tools -with few simple action you can create an amazing design to your website! SITE123 can supply a lot of professional tools as Ready-made color pallet, Set Menu Link Style, Navigation bar styles, website's font and more
9. You're not locked into long-term plans.
10. SITE123 takes care of your site security
11. You receive an all-in-one solution
12. Royalty Free Image & Video Library
13. The best tool for small or a medium-sized online store